UrWork Takes on WeWork in Fight for China's Shared Spaces
Bloomberg News
Startup just raised about $58 million for expansion plans

Growing field of operators include COWORK and MyDreamPlus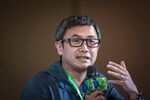 WeWork Cos. has found global success - and an $18 billion valuation - by turning austere office blocks into hipster havens for startups. But its expansion into China may soon be hampered by a familiar-sounding opponent - UrWork.
A stroll through one of UrWork's Beijing "communities" shows just how similar the pair can be. Engineers dressed in hoodies tap away on keyboards in a wood-paneled cafe, with a bar and beer taps providing a focal point for communal bonding sessions.
On Monday UrWork raised about $58 million, adding to a similar sized round in January. It was valued at $1.3 billion after merging with a smaller rival last month. It now has 78 offices of its own across 20 cities to give it market leadership, while WeWork has six locations in Shanghai and Beijing, along with two more on the drawing board. Founder and former real estate executive Mao Daqing shows no signs of slowing down and is open about watching what his rivals are up to.
"You analyze your competitor, see what good points they have and learn from that," said Mao.
His company isn't even the only Chinese operator to share a similar-sounding name. COWORK has slick locations across several major cities, while SimplyWork is mainly based in the manufacturing and technology startup hub of Shenzhen.
MyDreamPlus, another rival, runs 16 locations in Beijing with plans to open in Shanghai and Chengdu after raising $20 million in a Series B round last month, Managing Director Bill Li said.
WeWork is cashed up for a fight. Last year it scored a total of $690 million from investors including China's Legend Holdings and Hony Capital to fund a drive into Asia. A spokesman for WeWork declined to comment on its Chinese rivals and said the company was confident about the local market's future.
But the New York-based company faces a similar scenario to the one that pushed ride-sharing service Uber Technologies Inc. out of China: a fast-growing local rival with deep connections and the desire to win. 
UrWork's backers include Sequoia Capital China, Sinovation Ventures and Tianhong Asset Management Co., a fund backed by financial services giant Ant Financial. UrWork is even expanding into new lines of business like legal services to get more money and even equity out of the startups it hosts.
Sinovation Ventures' founder Kai-Fu Lee said Mao and his team have an inherent advantage over their countless rivals.
"Many other copycats just try to get cheap rent from the government," he said. "He's a real estate expert so he knows how to find the location, how to negotiate and how to get the costs down."
UrWork's Mao is well-known in China's property and tech circles. The grandson of Mao Ziyao, a domestically lauded architect who helped design Beijing's Great Hall of the People, applied exclusively for architecture courses upon graduation from high school and soon found success working abroad.
But where many Chinese who succeed overseas never look back, Mao worked his way home - first as an architect and general manager for Singapore's CapitaLand Ltd. on mainland projects before eventually becoming a senior vice president at China's biggest homebuilder, China Vanke Co. Then in 2015 he quit to start UrWork - five years after WeWork's formation.
He was partly inspired by visits to incubators around the world, but the eureka moment was a realization that there was a commercial property glut in much of China outside of Beijing and Shanghai that needed a solution.
Like WeWork, Mao uses his property developer connections to score long-term leases in prime locations before splitting them into open desks, private offices and meeting rooms. Getting a desk in UrWork's bunker-chic underground space at the ironically named "Sunshine 100" building costs 2,200 yuan ($320) to 2,600 yuan a month -- slightly cheaper than WeWork's Beijing location down the road.
He's also using Chinese know-how to find disused apartments and convert them into low-cost shared working spaces. This year UrWork will expand into Singapore, Los Angeles, New York, London and potentially Taipei. It's already using its scale to offer services that startups need, from marketing and public relations professionals to legal and fund-raising teams, in exchange for money or shares.
The overseas strategy raises the risks for UrWork, with many successful businesses in China stumbling when they go abroad and lose home field advantage. At home, UrWork faces a coterie of domestic players.
"There's always a lot of competition in China, different business models and a lot of investors putting in a lot of money so it's very hard for players to compete," said Kitty Fok, IDC China managing director. "If you're offering something for domestic consumption then you really need to understand the domestic culture."
Mao is unfazed by competition from WeWork and locals, noting that even with an estimated 16,000 facilities in China as of 2015 the industry was still small relative to other major centers such as London. He is also defying predictions of a slowdown in funding for businesses in China.
"I've never thought there was a capital winter," Mao said as he leans back on a canary yellow armchair. "It's about whether or not what you've got is good or not - not a matter of winter or summer."
(An earlier version of this story corrected the stage of funding for MyDreamPlus in the sixth paragraph.)
— With assistance by David Ramli, and Yuan Gao
Quotes from this Article
Before it's here, it's on the Bloomberg Terminal.
LEARN MORE