politics
Supreme Court Rejects North Carolina Congressional Districts
By
Race played too big a role in Republican-drawn map, court says

Thomas joins liberal justices in majority of divided ruling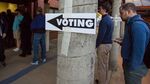 A divided U.S. Supreme Court ruled that North Carolina Republicans relied too heavily on race when they drew two bizarrely shaped congressional voting districts that were used until the 2014 election.
The ruling upholds a lower court decision that rejected the two majority-black districts and ordered a new map for the 2016 election. Even with the new lines, Republicans maintained their hold on 10 of the state's 13 districts.
Writing for the court, Justice Elena Kagan said a three-judge panel had sufficient grounds for concluding that race, and not politics, was the driving factor in setting out the lines. She also backed the lower court's conclusion that the district lines weren't needed to comply with a federal voting-rights law.
"A state may not use race as the predominant factor in drawing district lines unless it has a compelling reason," Kagan wrote.
The case produced an unusual split. Justice Clarence Thomas, perhaps the most conservative justice, joined the court's four liberals in the majority. Thomas is a staunch opponent of the use of race in drawing district lines, no matter which side benefits.
Chief Justice John Roberts and Justices Samuel Alito and Anthony Kennedy issued a partial dissent saying they would have upheld one of the districts. Justice Neil Gorsuch didn't take part in the case, which was argued before he joined the court.
The contested districts were both held by black Democrats. Critics said the goal was to dilute minority voting strength outside of those two districts and preserve the power of neighboring white Republicans.
North Carolina officials said they were trying to preserve black majorities and comply with the Voting Rights Act, the landmark 1965 law designed to protect racial minorities. North Carolina also contended that, with regard to one of its disputed districts, map-drawers were legitimately motivated by politics.
One of the disputed districts -- the 12th District, held by Representative Alma Adams -- was 120 miles long, snaking from Charlotte to Greensboro and roughly tracking Interstate 85. The other -- the 1st District, held by Representative G.K. Butterfield -- was in the northeastern part of the state, with tendrils that captured black areas further south and west.
The 12th District has been the subject of repeated court challenges over the years. The latest case represented the fifth time the Supreme Court had examined the district.
In his partial dissent, Alito said the court should have relied on a 2001 Supreme Court decision that rejected what he said was a "remarkably similar challenge" to District 12. Alito faulted Kagan for not requiring the challengers to produce an alternative map that served the legislature's political objectives without relying so heavily on race.
The case is Cooper v. Harris, 15-1262.
(
Updates with Kagan quote in fourth paragraph.
)
Before it's here, it's on the Bloomberg Terminal.
LEARN MORE