Watches
Seven Takeaways From Geneva's $63 Million Watch Auctions
It was a record-setting week with 1,271 lots on offer.
By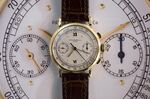 Originally published by Arthur Touchot on Hodinkee. 
Records. A lot of them were broken last week. New records were established for beloved brands and well-known models, and every time the words "most expensive" were pronounced, they were met by loud cheers from hundreds of enthusiasts who had made the trip to Geneva to be able to say "I was there" when the gavel was swung. Yes, records were also broken in terms of attendance (or so it felt) as spectators arrived in great numbers just to see key lots go under the hammer.
While the modern watch industry nurses a bloody nose, the auction world appears to be in great shape (there are signs of weakness in places though). This past week has been particularly interesting and exciting to follow, and not just because of the incredible results by a few key pieces. The appetite for rare pieces is incredibly strong, and the competition for these even stronger. Two names marked the sales as usual—Rolex and Patek Philippe—but the majority of the established manufacturers had very strong results. The same cannot be said of all the auction houses however.
With a little distance and some time to think over the results, here are seven things we can learn from last week.
Some Auction Houses Are Doing Much Better Than Others

In just three days, the four major auction houses (Antiquorum, Christie's, Sotheby's, and Phillips) sold more than 61 million CHF ($62.6 million) worth of watches. Phillips had the strongest sales (just as it did this time last year), taking in 32.6 million CHF, up 18.5 percent from last year's May auction, and selling 96 percent by value and 94 percent by lot. Christie's will be happy with 16 million CHF, selling 92 percent by value and 90 percent by lot, even though they experienced a 12.7 percent drop in sales from last year. Sotheby's had a catastrophic weekend, their sales total barely getting past 3.3 million CHF, meaning Phillips beat the entire Sotheby's catalog selling just one watch, while Christie's needed just two to beat their rival.
Sotheby's simply put too much faith (and invested too much of their marketing budget) into their top lot, the Patek Philippe Caliber 89, and when that failed to sell there was very little left in the catalog to rescue an abysmal day. Sales dropped 17 percent compared to last year's Geneva auction. Without their top lots, Phillips sold the most expensive Daytona ever and Christie's sold the most expensive Submariner ever. At Sotheby's, three of the top five lots failed to sell, and only 83 percent of the watches were sold overall. Meanwhile, Antiquorum Geneva did well, taking in 9.5 million CHF, up 66 percent from 2016. The auction house was holding its first sale since the appointment of a new general manager and since launching a rival website to Antiquorum USA. Despite low attendance (many I spoke to this weekend didn't even realize Antiquorum was holding a sale at all), the weekend will go down as a win. However, almost a quarter of the watches offered failed to find a buyer. Which brings me to my second takeaway from the week.
There Are Too Many Watches—And Not Enough Good Ones
The appeal of vintage watches is stronger than ever, and as interest grows, so do the number of pages in auction catalogs. The problem? Not all of the watches auctioneers are accepting belong in an auction room. Compared to 2016, the number of lots went up for three of the four auction houses. All in, the auction houses presented 1,271 watches this weekend, most of which were neither rare nor particularly collectible, and it's becoming increasingly clear in some cases that watches are coming from dealers struggling to find buyers on their own, using the visibility of the auction houses to recoup their investments. That's not a bad thing, necessarily, and it's certainly not new, but when a domino set is one of the highlights of the weekend, you have to start asking a few questions about what's being offered. The auction houses focusing on quality, not quantity, are reaping the rewards.

There Are Way Too Many Modern Watches

This one goes hand-in-hand with the previous point. Of the 1,271 watches on sale this weekend, some 230 were watches born in the 21st century. That's 18 percent, and that's just way too much. Wanting to offer a wider selection of watches and a more diverse catalog is understandable. There's definitely interest in modern watchmaking, particularly modern independent watchmaking, with lots of exceptional, interesting, unique, and collectible watches in that category that deserve their place in the auction room, and which sell (Phillips sold every modern watch in their catalogue). 
But the truth is, way too many modern watches don't. An unworn Mark XVII (a watch launched by the brand only three years ago) isn't "New Old Stock," it's new, and an Everose Yacht-Master ref. 116655 is "fine" but definitely not "rare"—not when two different auction houses are selling examples on the same weekend, and not when your local AD can get you the watch for approximately the same price (even if that means joining a waiting list). But don't take my word for it. Collectors themselves expressed their disinterest in these watches. Only 68 percent of the modern watches found a buyer during the weekend.

Auction Houses Need To Adapt To Newfound Popularity

The top auction houses had no issues getting people to their previews, and enthusiasts are flying (and driving) to Geneva in unprecedented numbers. The final previews were very well attended by collectors, members of the press, and the curious. It's become such a crowded affair that some shared their frustration at having to wait (what was sometimes a very long time) to see watches they were very seriously considering acquiring.

Auction houses find themselves in an awkward position, where they do not want to restrict access to specific watches to real clients—and that's precisely the last thing they should do—but aren't sure what returns they are getting from showing these pieces to everyone. The number of spectators is growing just as fast as the number of collectors, and the only ones currently identifying themselves as non-buyers are members of the press.

It's a new reality that auction houses are going to have to deal with, and while they should definitely continue to treat all of their potential clients equally, maybe they shouldn't treat the watches that way. Because they belong to private individuals, and since they are going to belong to other private individuals, these watches need to be handled with extreme care, and they are. But then there are museum quality pieces, such as the Bao Dai and the Haile Selassie, that have just been handled by more people this weekend than in the rest of their existence. Surely, there comes a point when the popularity of a watch can be detrimental to its condition. It just can't be good for a piece with already damaged luminescent hour and minute hands to be taken out of the cabinet hundreds of times a day for a quick wristshot. You don't have to drive the cars at a concourse to enjoy them, do you?
Invisible Collectors Are Transforming Auction Rooms

The watches that fetched the highest bids over the weekend were the Bao Dai, the Haile Selassie, and "The Legend" ref. 6263, and all three were contested by prominent collectors who have been buying and selling at auction since way before the same watches started trading for millions of dollars. There were plenty more serious collectors in the room, and auction houses are definitely attracting a new crop of watch collectors, most of them from Asia and the Middle East, but so far the ones going for the really expensive stuff are keeping their distance, placing their bids online or through the phones.
That's great, but if auction houses want to retain their entertainment value, they are going to need to replenish their audiences with strong and vocal supporting casts, or learn how to involve invisible and mute characters. Auctioneers still have a very important role to play (and some are excelling as soloists), but it's a very different role from what they're used to. At the moment, Aurel Bacs is the only auctioneer capable of making a phone bid just as entertaining (if not more) than a room bid, and that's one of the many reasons Phillips has been so dominant since it added his name to their watch department.
Rolex Is King

The story this weekend was the not-so-distant battle fought between between the Bao Dai at La Reserve, and the Haile Selassie at the Four Seasons. These are two watches with unique imperial connections, made in the same precious metal, and presenting deceptively similar black faces (save for a few diamonds), but one of them was a triple date and the other a perpetual calendar. It would make sense for the perpetual calendar to fetch a much higher price at auction, right? Well, that watch (arguably the one with the most interesting provenance, and definitely the least available of the two before the auction) made only half what the simple calendar made, and that raises some interesting questions about the collectibility of Rolex vs. Patek Philippe.

This weekend, Rolex really owned its crown. Vintage Rolex reigned over all other watches. Phillips sold the most expensive Rolex in the world, the second most expensive Rolex in the world, and the fourth most expensive Rolex in the world. If you're wondering about the third most expensive Rolex in the world, it was sold 12 months ago (again, by Phillips). Back at the Four Seasons, where Christie's dedicated an entire afternoon session to Rolex, the Crown filled every position in the top five results behind the Haile Selassie. I do believe Patek Philippe remains the epitome of watch collecting. The Bao Dai may have set a new record, but the overall most expensive wristwatch, a stainless steel Patek Philippe 1518, is way, way in front (and it's not even a unique watch). But this week belonged to one brand and one brand only. 
Unusual Is In

Unique pieces are still collectible, the Daytona bubble is ballooning, nothing out of the ordinary so far. But one of the most interesting trends of this auction season was the popularity of different. The new most expensive Submariner is not a very pretty Submariner at all, but it's a unique prototype. The new most expensive Paul Newman doesn't look have the typical Paul Newman look. And the biggest surprises of the week were an oversized split-seconds chronograph and a very atypical square chronograph from an almost forgotten manufacturer, and a very atypical time-only Audemars Piguet that most collectors did not even know existed. 
These results can only be positive for the world of vintage watch collecting. It acts as a reminder that there are still plenty of undiscovered gems, never before seen in the auction room, and it will no doubt encourage collectors to go out and uncover the next grail. 
Hodinkee is the preeminent resource for modern and vintage wristwatch enthusiasts. Through in-depth reviews, live reports, and dynamic videos, Hodinkee is bringing watches to a 21st-century audience.
Before it's here, it's on the Bloomberg Terminal.
LEARN MORE