Schaeuble Pressed for Greek Debt Relief by German Election Rival
By
Social Democrats' Gabriel says Greece has done its part

Time for creditors to step up, German foreign minister says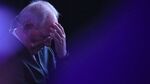 Greece's financial woes spilled over into the German election campaign, with Foreign Minister Sigmar Gabriel calling on the country's creditors to get serious about debt relief.
Gabriel, a Social Democrat, said Greece has upheld its side of the bargain by passing the latest measures to meet bailout terms, meaning it's time for creditors to end "political blockades" and flesh out plans for possible debt relief envisaged in 2018. That contrasts with guarded comments by Finance Minister Wolfgang Schaeuble, a Christian Democrat, who said euro-area finance ministers were discussing the matter on Monday in Brussels.
"The Greeks have always been told, 'If you do this, then if necessary there will be debt relief,"' Gabriel told reporters in Berlin at a news conference with French Foreign Minister Jean-Yves Le Drian. "Now I think it's time to make that concrete, because the Greeks have set their measures in motion."
Gabriel's Social Democratic Party has long challenged the euro-area fiscal discipline championed by Schaeuble and Chancellor Angela Merkel, even as the party serves as her coalition partner. Policy rifts between the SPD and the chancellor's Christian Democrats are sharpening as Germany heads toward a national election on Sept. 24 where Merkel is seeking a fourth term.
Earlier, Gabriel said the International Monetary Fund and a majority of euro-area governments agree that creditor institutions should give Greece a firm commitment on future debt relief, according to an interview with Sueddeutsche Zeitung. "This shouldn't fail because of German resistance," he told the newspaper.
'Right Path'
Schaeuble, at a separate news conference in Berlin with his new French counterpart, Bruno Le Maire, said euro-area finance ministers were discussing divergent scenarios for Greek debt relief.
While the IMF is "more restrained" in its assumptions about Greek economic growth than Greece's European creditors, the reform package passed last week was "remarkable."
"Greece is on the right path," he said. "The financial markets can place their trust in Greece, because the goal is for Greece to regain market access, step by step."
— With assistance by Birgit Jennen
Before it's here, it's on the Bloomberg Terminal.
LEARN MORE