Puerto Rico's Tax Dodgers Hide in Plain Sight on Every Corner
By and
No credit-card machines, no bank accounts in Barrio Obrero

'There are people around who don't pay a thing' in taxes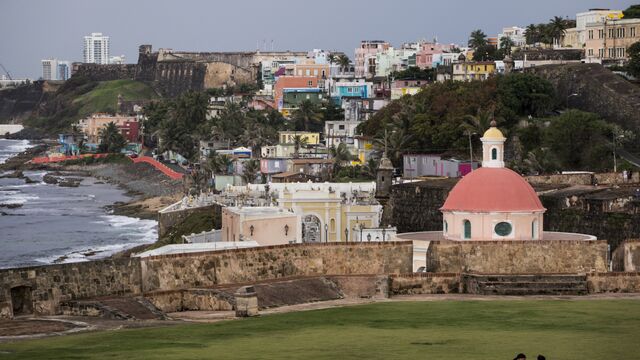 On Avenida Borinquen in San Juan, you can buy a DVD of "La La Land" or "Moonlight" for just $2. Cash only.
That's the deal, too, at nearby lunch counters in Barrio Obrero, a gritty district in the Puerto Rican capital. Ask if you can pay for your mofongo with a credit card and you get the same answer: There's an ATM down the street.

The no-plastic enterprises that pepper this part of the city represent some of the biggest problems for the debt-swamped U.S. territory, and some of the biggest opportunities. From the fruit stands to the bakeries to the barbershops, there's little love for the tax authorities -- and apparently little interest in transactions they can track.
Estimates are that about a third of Puerto Rico's gross national product -- as much as $21 billion -- is produced off the books. The government, seeking protection from creditors in the largest municipal bankruptcy in U.S. history, loses out on sales and income taxes as millions operate in an underground economy that grew as the official one atrophied. "It's a huge contributing factor to why they're in the debt crisis," said Andrew Trahan, a country-risk analyst for BMI Research in New York.
Measuring the phenomenon exactly is almost impossible, though reasons for it are in government data. More than 45 percent of people live below the poverty level. The unemployment rate is over 11 percent. There aren't an abundance of above-board opportunities for many who stitch livings together with what's called chiripeando, slang for receiving small under-the-table incomes from multiple sources.
One more statistic: The 11.5 percent sales tax is the steepest in the U.S. Ducking it with cash-only trades is routine for businesses of all sizes, said Miguel Santiago, 80, who owns a commercial building in San Juan's Santurce neighborhood and whose renters over the years have included a bar, a roofing-supply company and an auto mechanic.
"What they can evade," he said, "they will evade."
In Barrio Obrero, where entrepreneurs hawk fish stashed in sidewalk coolers and bananas and watermelons piled up in truck beds, the burden of regulations and paltry rewards for complying with tax laws are popular topics. In an informal poll last week, though, nobody copped to being under the radar.
Francisco Tirado, playing conga drums to pass the time as he waited for customers at his hair salon on Avenida Borinquen, was typical: He doesn't have a credit-card machine, and he doesn't trust banks. But Tirado, 58, said he pays his fair share to the tax collector. "It's just easier to work with cash."

Vendors pointed fingers at others. "There are people around here who don't pay a thing," said Jose Ortiz, who's been selling seafood, including sea bass and sawfish, in the neighborhood for 15 years. The 69-year-old operates legally, he added, though he doesn't blame the other guys.
Puerto Rico has tried for years to figure out how to lasso the informal economy and extract revenue from it. Authorities sometimes conduct raids on businesses to catch dodgers, and Tirado said they periodically make the rounds to check that paperwork is in order and fire extinguishers are where they should be.
The government hasn't had the will to take drastic steps, said Gustavo Velez, an economist who runs the consulting firm Inteligencia Economica in San Juan. "The political costs are too much." But the risk of letting things continue as they are is equally great. "When there's so much economic activity that runs parallel to the formal economy, it becomes a structural problem."
A spokeswoman for the office of Governor Ricardo Rossello didn't immediately respond to a request for comment.
It's a perplexing issue across Latin America and more broadly in emerging economies around the world, where ad-hoc enterprises can create ladder-climbing opportunities for people who can't find sanctioned work. The underground can be a safety net as an economy develops, or as one crashes. And it can be a drag on one trying to climb back.
Puerto Rico, a U.S. territory for 100 years, faces pressure to take action as bondholders make demands to Laura Taylor Swain, the judge in the $123 billion bankruptcy case. "That's a major issue the government needs to address," Trahan said.
Hiking the sales tax from 7 percent two years ago didn't help, said Manuel Amador, 27, who owns a textile shop that embroiders corporate logos on clothes and produces custom-made shirts and jackets. The tax is so high now that he said he's been surprised in the last year at how many customers have told him they don't want to use credits cards or checks. "These are significant clients crying to me, 'Please, I will pay you in cash."'
Tirado, the barber on Avenida Borinquen, said there's no just incentive these days to operate by formal-economy rules. Many people still pay taxes, he said, "but they shouldn't. The government doesn't stop charging, but what they do doesn't yield any benefits."
Before it's here, it's on the Bloomberg Terminal.
LEARN MORE