Noble Group `Fighting for Its Life' as S&P Sees Default Risk
By and
S&P reduces long-term credit rating by three notches to CCC+

Shares halted in Singapore after plunge as statement expected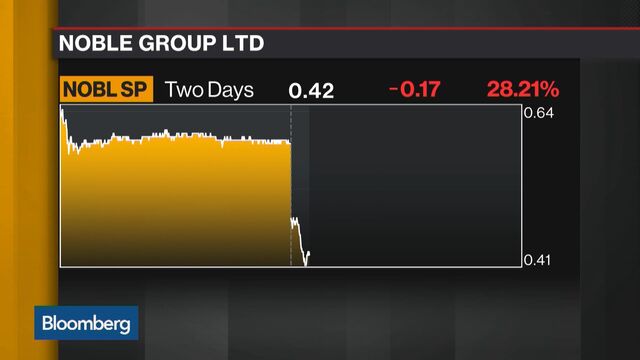 Noble Group Ltd.'s crisis deepened after S&P Global Ratings flagged a risk of default for the commodity trader within a year, triggering a rout in the company's shares before they were suspended in Singapore ahead of a company statement. The 2020 bonds fell to a record low. 
"Noble is fighting for its life now," said Owen Gallimore, head of credit strategy at Australia & New Zealand Banking Group Ltd., who's been covering Noble Group since 2008 and has been underweight on the bonds since 2015. "We're not sure how long it can sustain without a white knight."
Noble Group declined to comment on S&P's assessment in response to a request from Bloomberg News.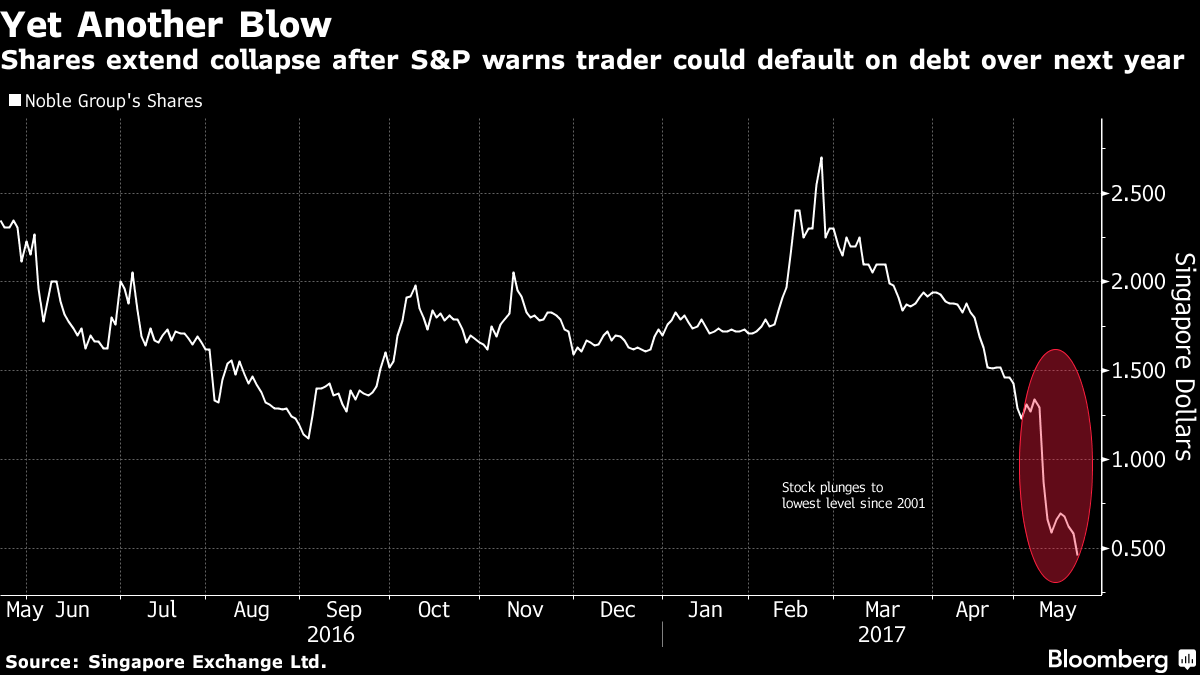 The Hong-Kong based trader's troubles are deepening after two turbulent years that have been marked by losses, asset sales, and accusations of improper accounting that it has denied. Since surprising investors two weeks ago with a quarterly loss, the shares have tumbled to multiyear lows and the price of its bonds has fallen by more than half. S&P's warning follows downgrades from Moody's Investors Service and Fitch Ratings Ltd. in recent days.
There's "potential that the company will face distress and a nonpayment of its debt obligations over the next 12 months," S&P said in a statement late Monday as it cut the company's ratings by three steps to CCC+. "The company's capital structure is not sustainable," S&P said.
The shares plunged as much as 32 percent to 40 Singapore cents, and were at 42 cents as the halt kicked in after just 36 minutes of trade on Tuesday morning. The stock has lost 75 percent this year, following a 44 percent drop in 2016 and 65 percent plunge the year before. The company's 2020 bonds sank to an unprecedented 39.4 cents on the dollar.
Major Maturities
S&P said that Noble Group has three major maturities over the next 12 months, listing $656 million due in 2017, of which $620 million are borrowing-base facilities due in June 2017; $379 million under a medium-term note program due in March 2018; and $1.1 billion in revolving credit facilities due in May 2018. Beyond that, there are bonds due in 2020 and 2022.
"Over the next three years, it's got huge amounts of debt maturing and right now the company is deeply trapped, unable to make any profit," Margaret Yang, a strategist at CMC Markets in Singapore, said by phone. A potential default over the coming year is "totally possible," according to Yang.
Noble Group is seeking a new $2 billion credit facility from its lenders before the $620 million in loans mature under the existing facility next month. "Conversations with the banks are ongoing," Chief Financial Officer Paul Jackaman said earlier this month.
In its assessment, Moody's highlighted a $900 million gap between estimated liquidity headroom of about $1.2 billion and the $2.1 billion in debt due by the middle of next year. Fitch said while Noble Group has adequate funds to cover maturities in 2017, it'll need to source external financing in 2018.
Noble Group's new chairman, Paul Brough, has been tasked with leading a review after he was named to the post this month, replacing founder Richard Elman. "The new chairman is considering assets sales and other strategic options, but there is limited visibility on the plan," S&P said.
Troubled Times
While the turmoil at Noble Group stretches back more than two years, there's been a flurry of developments over the past two weeks following the surprise profit warning for the first-quarter. Below is a timeline of major recent events, according to Bloomberg.
May 9: Noble Group issues profit warning for first quarter
May 10: Bonds slump after profit warning
May 11: Shares sink in Singapore as trading resumes after public holiday
May 11: S&P says debt load unsustainable
May 11: Noble Group reports loss, appoints chairman to review options
May 12: Noble Group shares cap 48 percent weekly loss
May 15: Moody's cuts rating, flags $900 million funding gap
May 16: Singapore Exchange says its 'closely monitoring developments'
May 16: Fitch Ratings cuts rating, says external funds needed in 2018
May 22: S&P cuts rating, warns of risk of default
— With assistance by Jack Farchy, and Lianting Tu
Quotes from this Article
Before it's here, it's on the Bloomberg Terminal.
LEARN MORE