May's Election U-Turn Spooks Own Ministers as Brexit Talks Near
By , , and
Ministers: Premier looked rattled, row may cost Tories seats

EU divorce talks planned 11 days after June 8 general election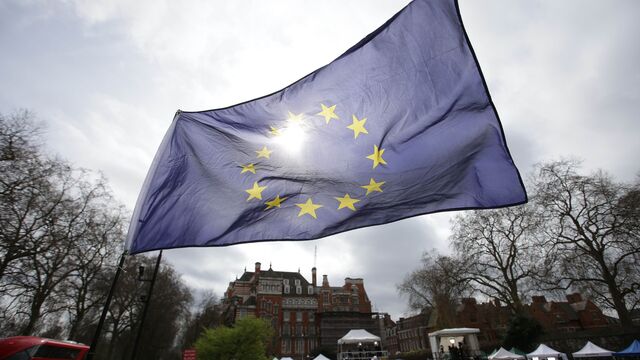 Follow @Brexit for all the latest news, and sign up to our daily Brexit Bulletin newsletter.
Theresa May's dramatic climbdown from an unpopular policy on elderly care not only spooked ministers who had been kept out the loop, but sounded the alarm over how she might tackle the issue she's staked her U.K. election campaign on: Brexit.
Speaking on condition of anonymity, two ministers in May's team blamed her close-knit inner circle of policy advisers for failing to foresee the fallout, noting that the premier herself looked angry and unnerved when announcing the reversal during a televised news conference. The blunder, they fear, could cost them seats in the June 8 vote.
The backlash triggered by a key manifesto pledge was followed by a narrowing of her Conservative Party's lead in polls and a U-turn four days after it was announced. While the domestic implications were immediate, analysts warned that May's habit of changing her mind might not serve her well in divorce talks from the European Union due to start less than two weeks after elections.
"A U-turn as such is not a bad thing," Jacob Kirkegaard, a senior fellow with the Peterson Institute for International Economics in Washington, said in a telephone interview. "But hers have not been a reflection of reality changing on the ground -- which is when a good, savvy politician changes his or her mind -- it's been political missteps."
For him, May's "style of secrecy and taking big decisions without generally debating with her own cabinet, that bodes disastrously for Brexit."
How to U-turn
Kirkegaard drew a comparison with Germany's Angela Merkel and her turnaround on nuclear policy in the aftermath of the disaster at the Fukushima plant in Japan. That change of heart, he said, was justified. But May, he argues, has collected a series of unnecessary policy reversals in less than a year in power that are the result of political miscalculation.
In this latest episode, for example, May generated the policy with little consultation, then said its unpopularity showed her willingness to be tough, then backed down when it proved more unpopular than she had expected, then denied she'd backed down.
That combination raises questions about whether the prime minister and her team will be able to cope with the pressure of Brexit talks. While flexibility is an advantage in government and in negotiation, May has now found her campaign slogan, "strong and stable," turned back on her by the Labour Party, which called her "weak and wobbly."
"She will be dealing with 27 member states, as well as institutions," said Mujtaba Rahman, an analyst at Eurasia Group in London. "It will be harder to walk back decisions if those decisions aren't fully thought out. She's going to have to learn to delegate and consult more widely. The U-turn does raise questions about May's style of governing."
Not First Time
It's not the first time May has retreated in the face of opposition. Back in March, she had to drop a tax rise announced a week earlier in the Budget.
And while May was dealing with dissent from her own party at home, in Brussels the rest of the EU were uniting around their negotiating position -- including a hard line on how much Britain should pay as it leaves the bloc.
If the last year has shown May can hit reverse -- such as when she vacillated over whether to proceed with the Hinkley Point nuclear plant -- it has also shown she does not like to admit to it. "Nothing has changed, nothing has changed," May told reporters Monday in Wrexham, north Wales.
She tried to use a BBC interview on Monday night to pivot the campaign back to her preferred line. "The question that people face is who do they trust to take this country though the Brexit negotiations?," May said. "It's either me or Jeremy Corbyn."
But to outside observers, like Euroasia, the real issue is another. "Can she trust senior civil servants, can she delegate effectively?," said Rahman. "Or is she going to micromanage at the level of European Council?"
— With assistance by Alex Morales
Before it's here, it's on the Bloomberg Terminal.
LEARN MORE