Catalan President Raises Stakes in His Push for Independence
By
'We will never surrender,' Puigdemont tells Madrid audience

Catalan coalition has drafted transitional independence bill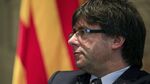 Catalan regional president Carles Puigdemont pledged to go ahead with plans to hold an independence referendum that are opposed by the Spanish government in Madrid.
"We will never surrender in our intention of allowing Catalans to vote," Puigdemont said in a rare speech in Madrid's city hall Monday. "If there isn't an agreed proposal due to the lack of will of the Spanish government, the commitment of the Catalan government is democratically inviolable."
The Catalan separatist government is seeking to take a definitive step in its independence agenda by calling a referendum later this year, even though Spanish Prime Minister Mariano Rajoy says such a vote can't be held under the country's constitution.
The region's ruling coalition, "Together for Yes," has already drafted a transitional bill on the basic structure and functioning of a hypothetical Catalan state, which would become law immediately should the Spanish government block the referendum, El Pais newspaper reported Monday, citing a copy of the blueprint. The report is based on a draft version that isn't current, the head of the group in the Catalan parliament, Jordi Turull, said on Twitter.
Earlier this year, the Catalan legislature approved a fast-track procedure for passing laws in a bid to limit the ability of the regional opposition and the central government to counter the secession movement. The transitional law includes the steps that judges and policemen should follow if they want to retain their jobs, as well as provision for taking over assets currently owned by the central government, El Pais reported.
'Threats and Blackmail'
"The threats and the blackmail that have been put on the table are inadmissible," Rajoy told a news conference earlier Monday, referring to the report. "It will never come into effect, and national sovereignty will continue."
Rajoy's time as prime minister since 2011 has been marked by persistent clashes with Catalan separatists, who have sought to foment a backlash against control from Madrid by arguing their region gets a raw deal from the Spanish tax system. Deputy Prime Minister Soraya Saenz de Santamaria, who is co-ordinating an effort to bolster the visibility of the central government in Catalonia, invited Puigdemont to explain his plan in the Spanish parliament.
The regional administration in Barcelona will "immediately" submit a request to hold discussions with the Spanish government about the terms of the referendum, Puigdemont said. Once the referendum has been held, the regional executive will make a fresh request to implement the result of the vote, he said.
Before it's here, it's on the Bloomberg Terminal.
LEARN MORE