Balance of Power: Trump Comedown
By , , and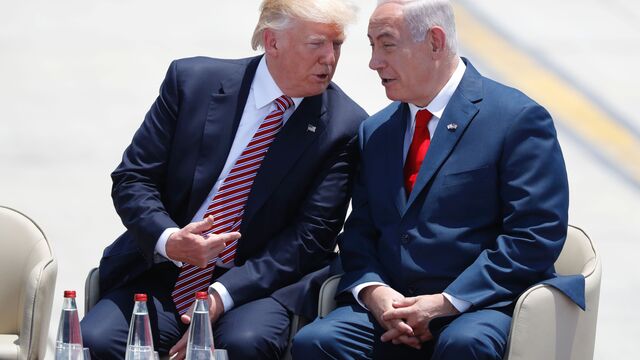 Hope Donald Trump enjoyed Saudi Arabia. His overseas trip is about to get a lot tougher.
It would be hard to top the Saudi leg, where the president mingled with sheikhs and kings and had gifts laid at his feet. "Jobs, jobs, jobs," Trump said triumphantly after U.S. companies signed deals worth hundreds of billions of dollars.
Next stop: Israel, always tricky territory for American presidents. Trump and Benjamin Netanyahu get on fine but the notion of a peace deal has never seemed farther away, as Palestinian President Mahmoud Abbas will surely remind him.
He'll make a quick stop at the Vatican, where Pope Francis says he won't lecture him on his anti-immigrant stance (but might anyway).
Then it's onto the heart of Europe, where he can expect a prickly reception. Germany's Angela Merkel and France's Emmanuel Macron won't lay anything at his feet at the NATO and G-7 summits. Instead, Trump can look forward to pushback on defense spending and some preaching on free trade.
The president can take comfort that there were no new bombshells about Russia over the weekend. But with chief strategist Steve Bannon and chief of staff Reince Priebus already heading back to D.C., even Trump seems aware that nothing lasts forever. Much like that good feeling in the Kingdom.
Sign up to receive the Balance of Power newsletter in your inbox, and follow Bloomberg Politics on Twitter and Facebook for more.

Global Headlines
Brazil's president loses more support | Michel Temer's future was cast in further doubt over the weekend. A major coalition party abandoned his government, the bar association voted in favor of impeachment proceedings and thousands came out to protest against him. His future may now depend now on a Supreme Court ruling due this week on whether to suspend the corruption investigation against him.
Oil's marriage of convenience | Saudi Arabia and Russia are at odds on pretty much everything from the war in Syria, to Iran and ties with Washington. But when it comes to propping up global oil prices, they've never been more aligned. Bloomberg's Javier Blas and Jack Farchy look at how the world's two biggest oil producers united last week to tell markets they want to maintain output curbs for nine more months. OPEC next meets on Thursday.
Iranian joy is short-lived | Iranians poured into the streets on Saturday night to celebrate the re-election of President Hassan Rouhani, whose message of opening up to the West helped him to trounce a hardline rival. But as Bloomberg's Marc Champion writes, the challenge facing the pragmatic Iranian cleric quickly came into focus when Trump called on the world to isolate Iran in his Saudi speech.
The Holy Land tour | Trump landed in Israel this morning, where his visit has already generated the wrong kind of headlines. The U.S. administration froze Israeli officials out of a planned visit to the Western Wall, and Netanyahu had to order his cabinet ministers to attend a welcoming ceremony after they initially refused to undergo a security check and wait hours for the president.
Trump to propose slashing anti-poverty programs | The Trump administration wants to cut $1.7 trillion from entitlement programs for poorer Americans in a spending plan being released tomorrow that aims to balance the budget in a decade. Talking points prepared for Republicans say the goal is "replacing dependency with the dignity of work." Still, the whole proposal is probably moot -- Republicans have already said they'll scrap Trump's budget plan for their own.
May's 'dementia tax' | Theresa May's bid for a landslide victory in next month's British election ran into trouble over the weekend as her plan to make wealthier retirees pay for their own care sowed confusion among her ministers and angered some voters. The opposition Labour Party, which has staged a mini-revival in the polls, dubbed it a "dementia tax."
Kim Jong Un declares missile milestone | North Korea's leader said a medium-range missile that could hit a U.S. military base in Guam is ready for mass production after a "perfect" test launch yesterday. While South Korea says more analysis is needed to verify the claim, the development poses a test for new President Moon Jae-in's team of doves seeking greater engagement with Kim's regime. 
And finally... Trump's Saudi trip produced some of the most vivid images of his presidency to date: gilded palaces, dancing swordsmen and Trump's own face projected onto the facade of Riyadh's Ritz-Carlton hotel. But the best photo-op came right at the end. Trump, King Salman and Egyptian President Abdel-Fattah El-Sisi opened an anti-extremist center by placing their hands on a glowing globe. Twitter quickly labeled it the #OrbOfDoom.


Before it's here, it's on the Bloomberg Terminal.
LEARN MORE