Trump's Cozy Relationship With Arab Leaders Has Plenty of Skeptics
By , , and
Many see Trump's Saudi comments as rhetoric, not sincere

Trump sought to recailibrate often frosty U.S. ties with Arabs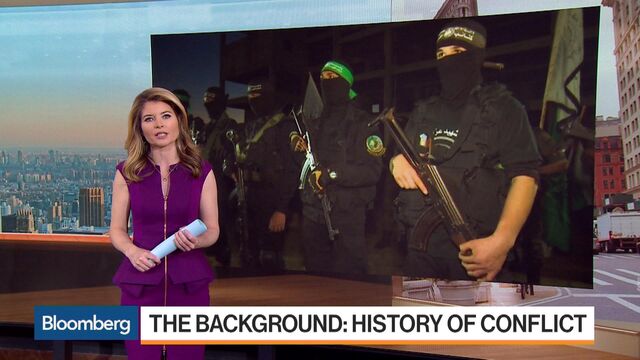 The grins, deals and platitudes flowed as freely as the ceremonial coffee as U.S. President Donald Trump heaped praise on Arab leaders gathered under chandeliers in the Saudi capital.
Yet the two-day effort to recast his administration's ties with the Muslim world sounded starkly different in homes across the Middle East, where there's deep distrust of U.S. intentions and entrenched cynicism over autocratic local leaders who often fail to deliver on heady promises.
"I'm really puzzled by the way Arab leaders are reacting to Trump," said Hussain Al-Qatari, who works in public relations in Kuwait. "He's directly responsible for anti-Muslim, anti-Arab sentiments in the U.S. and yet received such a warm welcome from the leaders of Arab countries," the 31-year-old said. While he "seemed conciliatory, I don't think much will change with Trump's era -- except for the worse."
After a day spent hailing military and business deals worth billions of dollars, in a speech in Riyadh on Sunday Trump turned his attention to the issue of Islam, extremism and global insecurity. He avoided inflammatory comments made during his campaign -- when he had said "I think Islam hates us" -- instead praising regional efforts to defeat militancy and calling Islam "one of the world's great faiths." He took aim at Shiite Iran as a fountainhead of terrorism, something his Sunni hosts were happy to agree on.

The overall tone was familiar to Sara Nour, 32, an office manager in Cairo. "He was actually sweet-talking us," she said. "It felt like an Arabic speech given by an Arab leader. It's clear from Trump's words that he realizes that a boiling Middle East is not good, and that the U.S. isn't far away."
For White House officials, the trip to Saudi Arabia offered the opportunity to reset ties. America's Gulf allies had fiercely opposed Barack Obama's opening to Iran and were alarmed when, in one of Trump's first acts as president, he attempted to ban travel from more than half a dozen Arab and Muslim countries. That fueled anti-American sentiment in the Arab world, where many already blame the U.S. for fanning the spread of militancy with its 2003 invasion of Iraq.
Read More: With Three Words Missing, Trump Tries to Change Tone on Muslims.
A survey of 3,500 young Arabs across 16 countries found that 83 percent had an unfavorable view of Trump. An overwhelming majority said they believed the president is "anti-Muslim, according to the findings released by ASDA'A Burson-Marsteller in May.
Hamad Al-Rowaitea, a telecom engineer in Saudi Arabia, was one who saw in Trump's words a way forward: "I wasn't expecting his speech, which showed that he saw Saudi as an ally in the fight against terror, rather than just blaming us and our societies."
Obama was heralded as a new beginning in much of the Muslim world, especially after his 2009 speech at Cairo University that stressed respect and bridging divides with the West. That hope didn't survive his presidency intact, though. To many in the region, American policy appeared impotent when confronted with conflict raging in several nations.
'Unique Personality'
In Riyadh, Trump told Saudi Arabia's King Salman that the monarch's father would have been proud of him, and again commended Egyptian President Abdel-Fattah El-Sisi on deftly handling the challenges confronting his country, including the ongoing fight with militants who have pledged allegiance to Islamic State. Arab leaders returned the favor, with El-Sisi praising Trump's "unique personality" and others rushing to cozy up to the U.S. president.
The chumminess prompted an Egyptian cartoonist, Samir Abdel-Ghany, to sketch an American flag in which the stars were replaced by images of unrecognizable faces wearing traditional Arab headdress.
Some things didn't crop up.
"He never mentioned anything about human rights or democracy," Omar Al-Osaimi, a 32-year-old Kuwaiti engineer, said of the U.S. president. "All we hear about from Trump and Arab leaders is terrorism, we don't hear about the other problems we face like education and health."
Others took cautious comfort in Trump's comments, noting that he was a deal-maker and one strong willed enough to follow through on his words -- even if lucrative business accords were his priority. Some couldn't be bothered to pay attention.
"I didn't watch it as my internet was down because I didn't pay the bill," said Mohamed Omar, 32, an accountant in Alexandria, Egypt. "But really, why should I care about what Trump says?"
— With assistance by Fiona MacDonald
Before it's here, it's on the Bloomberg Terminal.
LEARN MORE