Less Talk Is More on Trump's First Day in Saudi Arabia
By and
The White House leans on images and action instead of remarks

President to deliver major speech on terrorism on Sunday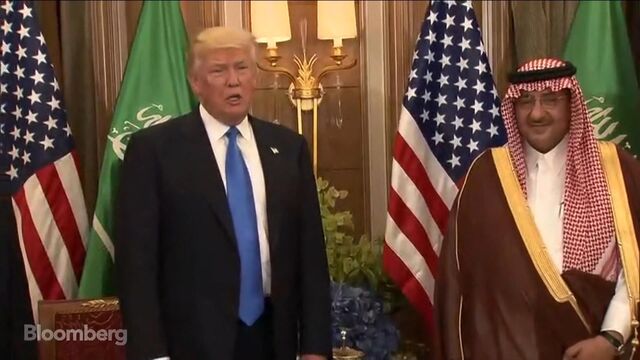 Donald Trump could hardly have scripted a more fitting close to his first day in Saudi Arabia: Rolling through the lobby of the National Museum in Riyadh in a luxury golf cart with his wife Melania and their host, King Salman, past a jumbo television screen showing American country singer Toby Keith's concert in Riyadh.
Trump will deliver a major speech on Sunday about the Muslim world and extremism. But on Saturday, his first day outside the U.S. as president, images proved easier to control than words.

While his shoot-from-the-hip interviews and tweets have been getting him in trouble at home, Trump practiced message discipline in Saudi Arabia. He had little to say to reporters, and when he did speak, he emphasized the jobs he expects his deals with the kingdom will produce for American workers.
He flashed his signature thumbs-up to reporters shortly after his arrival, a gesture locals once considered obscene but have come to accept as a Western expression of success or optimism. Billboards plastered with images of Trump and the king covered the city. A towering visage of Trump sporting his best tough-guy expression was beamed on to the exterior of a hotel. His arrival at the palace of the House of Saud was accompanied by bagpipe music.
Trump and his aides regard his eight days in the Middle East and Western Europe as an opportunity to turn Americans' minds from Russia investigations and his firing of FBI Director Jim Comey toward national security and job creation.
'Tremendous Day'
In brief late-afternoon remarks with the Saudi crown prince, Trump finally spoke in front of cameras. He said it had been a "tremendous day" and that deals his administration had announced with the Saudis would create "jobs, jobs, jobs." He took no questions.
As a sandstorm rolled into the city in the late evening, Trump and his chief of staff, Reince Priebus, and his chief strategist, Steve Bannon, were surrounded by dancing Saudi men wielding swords at an outdoor welcome ceremony before the start of an elaborate banquet at Murabba Palace.
Trump's golf-cart tour of the museum at the edge of the palace grounds followed the banquet. The golf cart seemed a fitting carriage for a real-estate developer who spends much of his downtime as president at golf courses bearing his name.
All night, the museum live-streamed Keith's high-profile concert, open only to men, in which he performed alongside a lute player. Keith performed during Trump's inauguration festivities earlier this year. Riyadh seemed a less obvious venue, considering that some of his best known hits are about drinking or celebrating the U.S. military. His song "Courtesy of the Red, White and Blue" glorifies the U.S. "war on terror" begun after the September 11 terrorist attacks.
Sample lyric: "'Cause we'll put a boot in your ass; it's the American way."
That's an apt description of Trump's attitude in his presidential campaign, when he attacked "radical Islam" at every turn and at one point proposed a ban on Muslim immigration. He has softened his tone considerably since winning the election, and in his speech on Sunday, his advisers say he'll seek to align the U.S. and the Muslim world against extremism.
Before it's here, it's on the Bloomberg Terminal.
LEARN MORE