LeEco's Billionaire Founder Steps Back From Struggling Business
Bloomberg News
Jia Yueting to remain in post as chairman of Leshi Internet

Finance Director Yang Lijie also steps down from position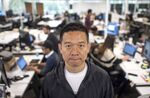 Billionaire Jia Yueting will relinquish the day-to-day running of his flagship streaming service, as cash-strapped parent LeEco considers an internal overhaul that will group businesses from entertainment to TVs under its main listed company.
The Chinese technology conglomerate's founder announced he's stepping down as general manager of Leshi Internet Information & Technology Corp., a Netflix-like service and phone- and TV-maker. Jia will remain chairman to devise longer-term strategy and oversee a corporate revamp intended to improve transparency -- an area in which Jia admitted LeEco's been lacking. 
The internet giant has grappled with fund-raising difficulties and unpaid bills in past months, a cash squeeze exacerbated by rapid expansion beyond online video and into costly arenas from sports broadcasting and electric cars to online finance. It's now considering merging all privately held businesses into its Shenzhen-listed unit Leshi and carving out a separate auto-making entity, Jia told reporters Sunday evening.
"In the future, we hope LeEco is only formed of two parts: the listed businesses and the auto unit," according to a transcript of an interview with Jia provided by LeEco. Most of LeEco's businesses are currently held privately by Jia and a number of investors.
While conceding LeEco's going through a rough patch, Jia predicted problematic businesses such as ride-sharing unit Yidao will bottom out in a year or two. That's helped by recent layoffs, Jia said without going into specifics, as well as further fundraising. 
LeEco's car-making unit is about to begin a new round of fundraising that he said should be completed later this year. In the transcript, Leshi board secretary Zhao Kai said the company will decide on longer-term plans in accordance with the wishes of shareholders, and those may include initial public offerings for various businesses.
To tide LeEco over, a recently announced 13 billion yuan ($1.9 billion) investment from Sunac China Holdings Ltd. has been distributed between three LeEco businesses: Leshi, a film-making unit, and a subsidiary that makes smart TVs. To enhance financial transparency, Jia pledged to "massively" reduce the amount of connected transactions, or deals between individual LeEco units, from 2017.
Jia didn't spend much time expounding on LeEco's U.S. interests. The billionaire is a backer of electric vehicle maker Faraday Future, which is building a plant in Nevada that at one point was suspended. It remains unclear how the American business, which on one occasion was said to have struggled to pay employees on time, will fit into a re-organized LeECo.
Leshi's shares have been suspended from trading since April, pending detailed restructuring plans. The announcement of Jia's retreat from Leshi management was accompanied by two other key appointments. Liang Jun, who joined the company from PC-maker Lenovo Group Ltd. about five years ago, will replace him as general manager. Former Leshi finance director Yang Lijie will be replaced by Zhang Wei, the listed company said in a separate filing. 
— With assistance by Yuan Gao
Before it's here, it's on the Bloomberg Terminal.
LEARN MORE