Southwest and Northwest regions grew fastest in 2012-2016

Growth deceleration in the Northeastern rustbelt the fastest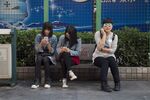 Growth in China's economy has long centered on the coast, where Shanghai and the Pearl River Delta form some of the world's most productive regions on their own. 
But now that tide of internal migration that drew hundreds of millions of workers from the farm to factory is shifting, and lifting the economic prospects of the country's interior.

As big-city living costs rise and job openings become less abundant, more migrants are now leaving China's urban centers than new ones arriving, according to Oxford Economics Ltd.
"Labor costs on the East Coast are now too high for industries further down the value chain to remain competitive internationally," London-based economist Alessandro Theiss wrote in a report, citing an 8 million decline in the migrant population from 2014 to 2016. 
The shift should benefit inland provinces, especially in southwest regions like Sichuan, as companies move production to take advantage of lower costs while remaining connected to coastal export hubs and industrial clusters, he said.
Southern and northwestern provinces are are likely to keep expanding relatively fast as they benefit from catch-up growth, fiscal support and geographic location, while the northeast is likely to remain the slowest-growing region as population declines and coal mining consolidates more in inland provinces, according to Theiss. 
While the east coast was hit by slower global trade in recent years, conditions are now improving. Specialized manufacturing clusters and export hubs are innovating and moving up the value chain, and research activity is boosting the region.
That's good news for some of China's biggest drivers: Coastal Guangdong, Jiangsu and Shandong provinces each account for around 10 percent of national output and all had output last year that exceeded Mexico's, Theiss said. The future looks favorable for east coast provinces with more mature economies, as well as those in central China.
"They continue to innovate and to move-up the value chain, specializing in advanced manufacturing such as robotics and genomics, and expanding and developing specialized manufacturing clusters," Theiss said. "First-class infrastructure, significant R&D spending, large FDI inflows, a rapidly growing domestic market as well as a highly educated workforce should allow them to continue to grow at a solid pace."
— With assistance by Jeff Kearns
Quotes from this Article
Before it's here, it's on the Bloomberg Terminal.
LEARN MORE