politics
High Fives in Riyadh as Trump Leaves Woes Behind for Deals
By and
'Tremendous investments' to create 'jobs, jobs, jobs'

GE, Lockheed Martin among U.S. companies to sign Saudi deals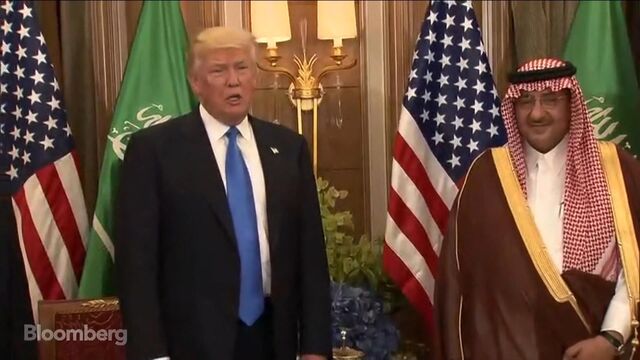 The first day of Donald Trump's inaugural trip abroad yielded a bonanza of business deals as the president looked to change the focus from the controversies dogging his administration to fulfilling a campaign promise to revitalize the U.S. economy.
"Tremendous investments," Trump said on Saturday as he headed into a meeting with the Saudi Crown Prince. "Hundreds of billions of dollars of investments into the United States and jobs, jobs, jobs."
Commerce Secretary Wilbur Ross, interviewed in Riyadh, said "I can't imagine another business day that's been as good for the United States or for the kingdom." And National Economic Council Director Gary Cohn, when asked earlier by reporters what deals would be agreed to, said "A lot of money; big dollars."
At one point, senior adviser and son-in-law Jared Kushner was seen high-fiving National Security Adviser H.R. McMaster. Trump's entourage also included Secretary of State Rex Tillerson, chief strategist Stephen Bannon, and daughter Ivanka Trump, who'll meet Sunday with Saudi women's groups.
The president was greeted by King Salman on Saturday morning as he exited Air Force One. Jets flew overhead, leaving a trail of red, white and blue smoke. The elaborate welcome extended all the way to the Royal Palace, where Trump was awarded with Saudi Arabia's highest civilian honor before officials from both countries sat for a traditional coffee ceremony.
Executive Signings
The first of Trump's two days in Riyadh culminated in U.S. executives signing several agreements with Saudi institutions. General Electric Co. secured $15 billion in deals to provide technical support across different sectors of the kingdom, including the oil and gas industry. Lockheed Martin Corp., with Chief Executive Officer Marillyn Hewson on hand, committed to the assembly of 150 S-70 Black Hawk helicopters in Saudi Arabia. And Saudi Arabian Oil Co. Chief Executive Officer Amin Nasser said the kingdom would enter into deals with the U.S. valued at about $50 billion.
Altogether, the package would support "tens of thousands of new jobs in the U.S. defense industry," the White House said in a statement. Boosting manufacturing employment is a major policy goal of the Trump administration.
Also on Saturday, Blackstone and the Public Investment Fund of Saudi Arabia signed a memo of understanding for a new vehicle to invest in U.S. infrastructure assets.
Getting U.S. companies more involved with Saudi Arabian economic diversification "ends up creating jobs in the kingdom and also back in the United States," said Khush Choksy, a senior vice president at the U.S. Chamber of Commerce.
'Nut Job'
Amid the fanfare, the president's arrival was marred by more damaging headlines back home, just minutes after the cabin doors closed for the 14-hour flight to Riyadh.
The New York Times reported late Friday that Trump had bragged about firing FBI Director James Comey to two Russian diplomats in an Oval Office meeting, calling Comey a "nut job" and saying that his removal had relieved pressure from the investigation into Russia meddling in the 2016 election. Lavrov, speaking in Cyprus on Saturday, said the subject wasn't discussed. Later Friday, the Washington Post reported that law enforcement officials had identified a senior White House adviser close to the president as a person of interest in the probe of Russia's role.
Comey Testimony
Also Friday, the Senate Intelligence Committee announced that Comey had agreed to testify in open session, ending more than a week of speculation about whether he would appear publicly to make his case since he was fired by Trump on May 9.
After Saudi Arabia, Trump plans stops in Israel and at the Vatican, where he'll meet Pope Francis, completing a swing through the centers of some of the world's major religions. He'll then joint a NATO summit in Brussels to confer with top allies, including the newly elected French President Emmanuel Macron. Trump will conclude with the annual Group of Seven meeting in Sicily. The trip will be a fast-paced, high-stakes whirlwind of diplomacy, all conducted under the shadow of the deepening political crisis back home.

Trump again denied, during a news conference on Thursday, that there was any collusion between him or his campaign and the Russian government. Earlier this week, the Department of Justice announced it was appointing former FBI Director Robert Mueller as a special counsel charged with leading the federal investigation.
Trump also denied asking Comey to drop the Flynn investigation. "No. No. Next question," he said at the news conference.
That move followed the president's surprise firing of Comey earlier this month, and his subsequent acknowledgment that frustration with the ongoing Russia investigation factored into that decision. The controversy grew amid revelations Trump disclosed classified material in an Oval Office meeting with the Russian diplomats, and the existence of a memo in which Comey said Trump asked him to drop an inquiry into former national security adviser Michael Flynn.
Turn the Page
Trump has dismissed the controversy as an unparalleled "witch hunt." He now hopes that his eight-day tour in the Middle East and Europe can turn the page politically, offering the property developer and reality TV star turned politician a chance to demonstrate his singular brand of deal-making diplomacy. "Great to be in Riyadh," Trump said on Twitter shortly after arriving.
Trump selected Saudi Arabia for the first leg of his journey after receiving assurances that the kingdom would make significant investments in the U.S., including the purchases of hundreds of billions of dollars' worth of military equipment in the next decade and $40 billion from its sovereign wealth fund, a White House official said.
That includes a $6 billion deal for Saudi Arabia to buy four Littoral Combat Ships made by Lockheed.
Trump and the Saudi king spoke together through translators in the Royal Palace, with Saudi Arabian and U.S. flags arrayed behind them. Crown Prince Mohammed bin Nayef sat between first lady Melania Trump and Tillerson. Trump is meeting with the Saudi monarch ahead of a Sunday conference with leaders from across the Arab world.

Saudi officials have told the White House that King Salman will publicly say it's the responsibility of leaders throughout the Middle East to defeat radical ideology in the region, according to another administration official, who also spoke on condition of anonymity to preview the visit. This official said the White House regards the speech as a significant development that could draw other Arab nations closer to the U.S.
— With assistance by Justin Sink, and Kevin Cirilli
(
Updates with Trump comments in second paragraph.
)
Before it's here, it's on the Bloomberg Terminal.
LEARN MORE