Merkel Seeks Push for Ukraine Cease-Fire Talks With Macron
by
German chancellor, Ukraine's Poroshenko hold talks near Berlin

Macron backs peace process for eastern Ukraine, Merkel says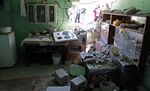 German Chancellor Angela Merkel said she and French President Emmanuel Macron will seek to revive talks with Russian President Vladimir Putin on a cease-fire in eastern Ukraine.
Speaking alongside Ukrainian President Petro Poroshenko during a meeting near Berlin, Merkel said Macron had backed the so-called Minsk peace process on Monday during the first visit to the German capital after his inauguration.

"We will very quickly look for opportunities for the four heads of state and government -- the three presidents and I -- to establish contact," Merkel told reporters on Saturday, according to a German government statement.
Merkel, Putin, Poroshenko and Francois Hollande, Macron's predecessor as French president, signed an accord in February 2015 in Minsk, Belarus, that sets out steps toward a cease-fire and political settlement between Ukraine and pro-Russian separatists in parts of eastern Ukraine. Still, fighting continues to flare in a war that's killed more than 10,000 people and displaced more than a million.
"Unfortunately, after a certain lull over the Easter period, we are seeing cease-fire violations on the rise again," Merkel said Saturday at Schloss Meseberg, an 18th-century palace north of Berlin that's used as a government conference center.
Before it's here, it's on the Bloomberg Terminal.
LEARN MORE