business
JPMorgan's Dimon Signals Optimism on Economy, U.S. Rule Changes
Francine Lacqua, Keith Campbell and Matthew Martin
JPMorgan chief says it's harder to grow market share further

Dimon still optimistic on bank regulation reform under Trump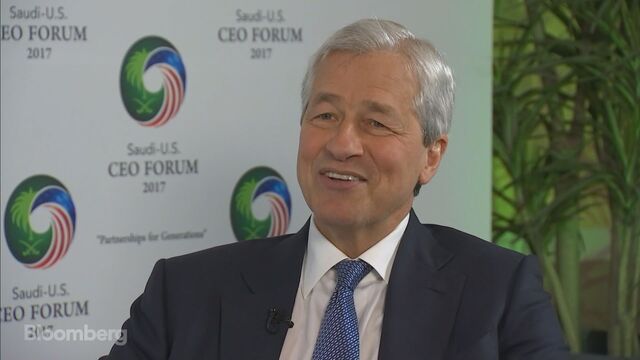 JPMorgan Chase & Co. Chief Executive Officer Jamie Dimon said he remains optimistic about the global economy and the prospects for regulatory reform under U.S. President Donald Trump.
"Japan is growing more than it has grown in 15 years, Europe is doing well all things considered, America is chugging along," Dimon said in an exclusive interview with Bloomberg TV on Saturday in Riyadh, where he attended a Saudi-U.S. CEO forum held to coincide with Trump's visit to the kingdom. "Even the IMF, which is always warning about stuff, is saying the world will grow faster than expected."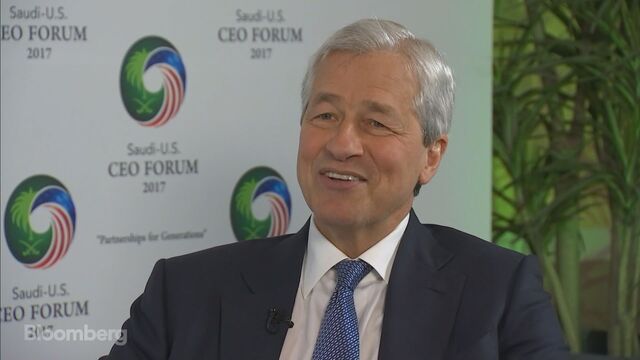 Dimon said he's comfortable about JPMorgan's future given its positioning in emerging markets like Saudi Arabia, which is moving to privatize assets and gaining increased attention from international investment banks seeking advisory mandates. He also signaled that the bank is unlikely to boost its market share in some businesses even further after recent gains, and repeated his call for fine-tuning bank regulation in the U.S.
"The Trump administration wants to deregulate certain things, and most of us in business think that regulations have been holding back growth," Dimon said. "I'm still optimistic that you'll have some regulatory reform. Even my Democratic friends understand that it makes sense to look at what was done, what can be done better, what can simplify the burden on businesses."
To read about the bank's most recent earnings, click here.
Treasury Secretary Steven Mnuchin said this month that breaking up the biggest banks would be a "huge mistake," just weeks after Trump said his administration was reviewing whether a split made sense. Some administration officials have suggested they are in favor of Congress passing an updated version of the Depression era Glass-Steagall law that split commercial and investment banking, though they have been vague about what that means. It was repealed in 1999.
'Ability to Compete'
"When they're talking about Glass-Steagall, they're saying, would you regulate smaller banks differently than the bigger banks, and that's perfectly understandable," Dimon said. "I don't think it's going to stop our ability to compete."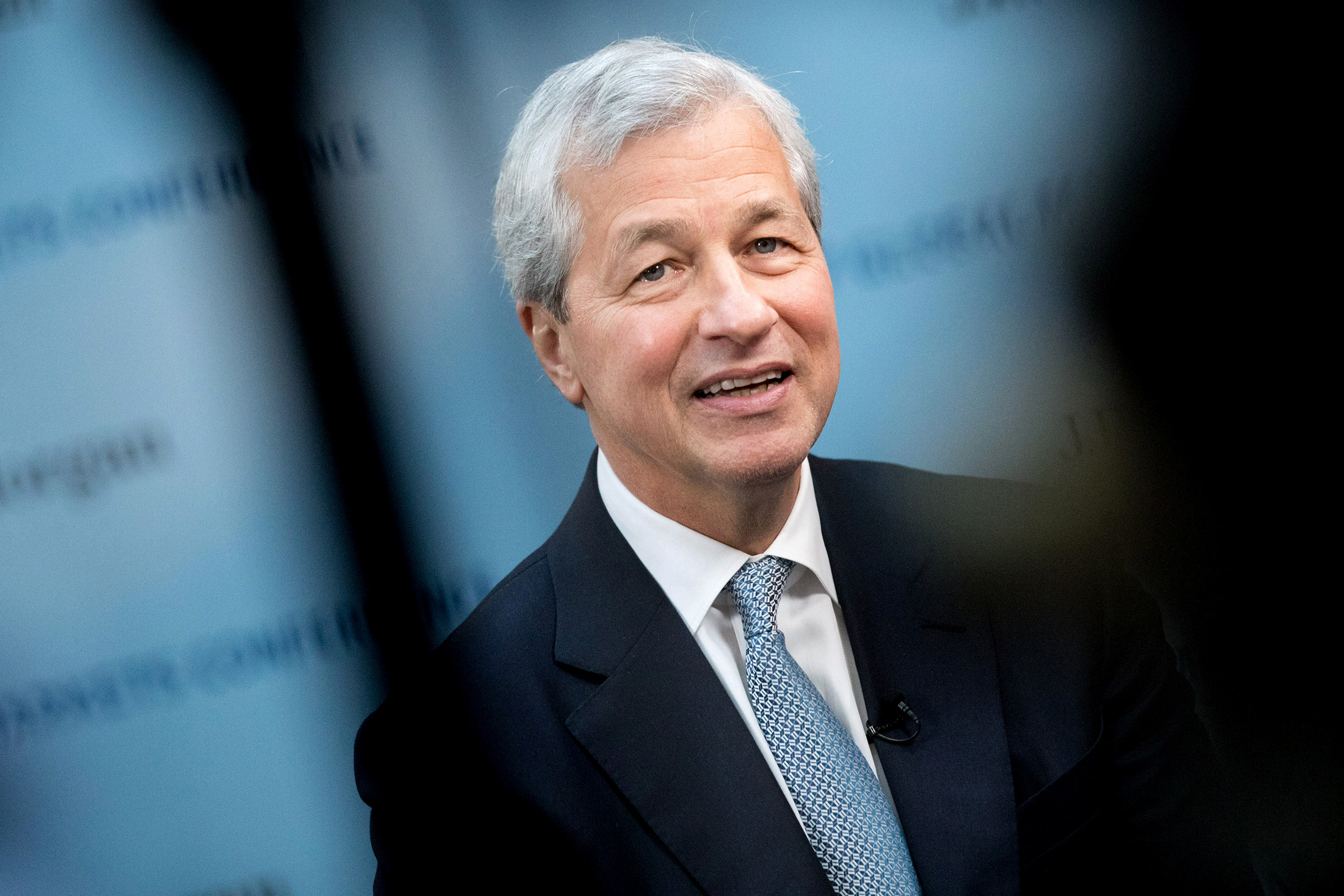 In April, the bank beat analysts' first-quarter profit estimates on better-than-expected trading results and lending margins. Trading revenue rose for a fourth quarter, the longest streak in at least a decade, with a 17 percent advance in fixed income and a surprise increase for equities. "It will be hard to gain" further share in fixed income, Dimon said.
Future Acquisitions
Dimon also said the bank may consider making acquisitions in financial technology or payment processing in the future, though he's not considering any deals at the moment. "There is no area we can't grow organically," he said.
American corporate titans are gathering in Riyadh to boost bilateral ties as the nation moves to diversify its economy. JPMorgan and Citigroup Inc., which received its long-sought after investment-banking license in the kingdom last month, helped arrange a $17.5 billion Saudi bond sale last year and a $9 billion Islamic bond issue in April.
Dimon said JPMorgan's Saudi operations had boomed from two staff during his first trip to the kingdom to about 80 employees today. The bank employs about 30 women locally, including several managing directors.
Saudi-U.S. gathering: the background
"We're part of the banking system here, part of the brokerage system here," Dimon said. "We bank the government and many corporates. We'll be getting bigger over time as Saudi Arabia and the Middle East grow."
— With assistance by Desley Humphrey
Before it's here, it's on the Bloomberg Terminal.
LEARN MORE