We Know Where All the Money Is Hiding
Five stories that shaped the week, and the big ideas behind them.
By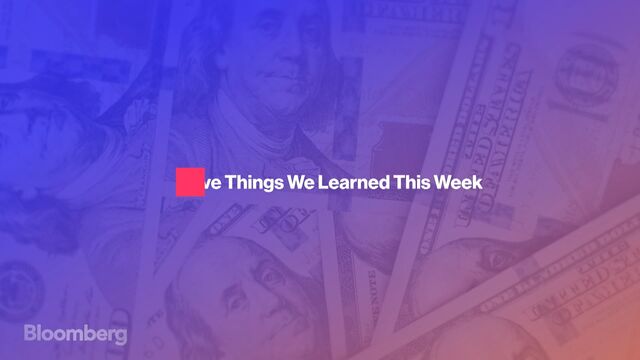 1) Tell Grandma: Go Treat Yourself
Millions of a certain group of Americans are hoarding cash, putting the U.S. economy in a tough spot. Retirees who are usually expected to spend that hard-earned nest egg are instead cutting their spending and living frugally, according to a University of Michigan survey analyzed by software company United Income. The median retiree spends 8 percent less than they comfortably could afford, according to a study published last year in the Journal of Financial Planning. Spending money, besides being a boost for the economy, could help retirees be more active, provided that they physically get out of the house to do it. Meanwhile, younger Americans, whose incomes are falling behind those of previous generations, aren't saving enough.

2) Don't Make Enemies at the FBI
The warnings had been coming for months: Don't anger the intelligence community. That's what President Donald Trump had been doing when he criticized the CIA and FBI over leaks and accusations that Russia had interfered in the U.S. election. Now the president is suffering what's arguably the worst week of his presidency, dealing with damaging stories about his meetings with Russian officials and former FBI director James Comey. The allegations came from current and former U.S. officials, including those in U.S. counterterrorism and associates of Comey.
3) Apple Has a Plan to Fight Back
The world's most valuable public company has been in a relative slump. Sales of iPhones have been falling and longtime rival Microsoft is introducing a $999 laptop to compete with the MacBook Air. Bloomberg News reports that Apple plans to show off three new laptops in early June, with faster Intel processors. Apple hasn't updated the Air's speed in two years and last redesigned it almost seven years ago. Macs account for 11 percent of the company's $216 billion in annual sales.
4) Chain Restaurants Are Losing Out to Locals
Go ahead, make my sandwich. Independent restaurants and small chains are growing faster in the U.S. than large, national brands, marking what some are calling a turning point in the history of American restaurants. Big chains are expected to grow 3 percent annually through 2020, compared with a 5 percent increase in annual revenue for smaller shops, according to industry researcher Pentallect Inc. Some stats: The number of Subway stores in the U.S. declined for the first time ever last year, and sales at Applebee's fell almost 8 percent in its latest quarter. As in other areas of life, diners are looking for the authentic, Instagrammable experiences at an independent restaurant, said John Gordon, restaurant and franchisee consultant at Pacific Management Consulting Group in San Diego. "It's not experiential to sit in a rundown McDonald's," he said.
5) Your Co-Pilot Might Be a King

His Majesty has turned off the fasten seatbelts sign. Dutch King Willem-Alexander revealed this week that he's been regularly working as a co-pilot on KLM flights, as often as twice a month, for more than 20 years. The 50-year-old royal said that people rarely recognize him these days in his KLM uniform and cap, especially now that the door to the cockpit is often closed for security purposes. His "guest pilot" gig is coming to an end, at least temporarily, as he retrains to fly Boeing 737s that are being put into service to replace a fleet of Fokker 70 planes. "You can't take your problems from the ground into the skies," he told De Telegraaf. "That, for me, is the most relaxing part of flying."
Quotes from this Article
Before it's here, it's on the Bloomberg Terminal.
LEARN MORE