politics
Trump's Budget Aims for Balance Through Steep Cuts, Growth
By
Sharp cuts in Medicaid, farm subsidies face stiff opposition

Fiscal 2018 spending plan to be sent to Congress next week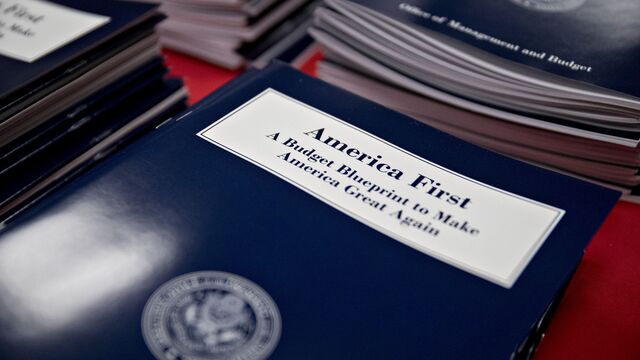 President Donald Trump will send to Congress a proposal for balancing the federal budget within 10 years through deep cuts to discretionary and safety net spending, according to a U.S. official.
The budget proposal for fiscal 2018 is scheduled to be delivered to lawmakers on Tuesday. It would expand greatly on an outline the White House sent to Congress in March calling for $54 billion in domestic spending cuts in the coming fiscal year.
Under the full plan to be unveiled on Tuesday, Trump would make cuts to mandatory spending on an array of social programs while sparing the Social Security and Medicare entitlement programs, according to the official, who described the proposal on condition of anonymity ahead of its release.
The plan is certain to face vigorous opposition from lawmakers in both parties who will resist chopping favored programs. The Wall Street Journal reported on the proposal earlier.
Senate Majority Leader Mitch McConnell said this week that he expects the Republican-led Congress to ignore Trump's requests to cut foreign aid and State Department funding. Meanwhile, House Democrats are warning that any attempt to enact the proposed agency cuts would lead to a government shutdown in October when the new fiscal year begins.
As part of the plan to be released next week, the administration is calculating that annual growth in U.S. gross domestic product will reach 3 percent by 2021. That's far more than the 1.9 percent rate projected by the Congressional Budget Office.
Trump Budget Said to Include $200 Billion for Infrastructure
During his testimony to Congress on Thursday, Treasury Secretary Steven Mnuchin said that a 3 percent growth rate would be attainable provided that the government pursues policies that reduce taxes and ease the regulatory burden on businesses.
"I believe that a goal of three percent GDP or higher economic growth, is achievable if we make historic reforms to both taxes and regulation," Mnuchin told the Senate Banking Committee.
The full budget request will contain details on Trump's proposal to overhaul the tax code. Experts say that in order to balance the budget in ten years, the plan will likely have to assume tax rate cuts are largely offset by the elimination of deductions and exemptions that the administration so far hasn't specified.
Congress will treat the president's request as a starting point to craft its own budget resolution, which Republican leaders would then use to speed tax code changes through the Senate. House Republicans have floated using a controversial border adjustment tax as a way to offset tax rate cuts.
Trump Plans Historic Cuts Across Government to Fund Defense
Trump's proposal will also call for spending $200 billion in federal funds over 10 years to spur investment in the nation's infrastructure, according to another U.S. official familiar with the plan. The funds would serve as an incentive for at least $800 billion of infrastructure investment by the private sector and state and local governments, the official said.
With the outline submitted in March and the full proposal to come next week, Trump is calling for historically deep budget cuts across government that would touch almost every agency and program, reshaping priorities to boost defense and security spending.
While Social Security and Medicare would be spared cuts under the president's proposal, other safety-net programs would take a hit, including Medicaid, food stamps, federal worker benefits and farm subsidies.
The possibility of proposed cuts to target price supports and crop insurance led Representative Mike Conaway, chairman of the House agriculture committee, to seek a meeting earlier Thursday with White House director Mick Mulvaney.
McConnell signaled earlier this week that lawmakers would seek substantial changes to whatever Trump submits. The president's proposal will reflect priorities that "aren't necessarily ours," the Kentucky Republican said in a May 16 interview with Bloomberg News.
"It will be a process of negotiation," McConnell said. "We haven't paid a whole lot of attention to any president's budget since I've been here."
— With assistance by Mark Niquette, and Justin Sink
Before it's here, it's on the Bloomberg Terminal.
LEARN MORE