Billionaire's Soccer Shakeup Threatens TV's Reign
By , , and
Some top soccer games set to become online only in Germany

A milestone for billionaire Blavatnik's web sports venture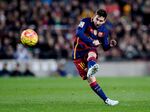 Billionaire Len Blavatnik's DAZN is set to take a big step toward its goal of becoming the Netflix of sports, with the online-TV service near picking off a chunk of Champions League soccer rights in Germany that had previously been on traditional television.
DAZN is closing in on exclusive rights to carry some of the games from the world's most-popular club soccer tournament alongside bigger rival Sky Plc, according to people familiar with the matter, who asked not to be named because no decision has been announced. It would be the first time in Europe that viewers could watch some Champions League games only over the internet.

The rights deal, potentially valued at about 600 million euros ($670 million) in total, could be announced within days, according to one of the people. DAZN's looming victory is a watershed moment for Europe's media industry because fans will have to employ web-enabled devices, rather than broadcast TV, to watch Lionel Messi's FC Barcelona vie with Eden Hazard's Chelsea FC.
"Over-the-top as a platform is going to continue to grow," said Andrew Georgiou, chief executive officer of Lagardere Sports and Entertainment, one of the world's largest sports agencies. "For traditional broadcasters, maintaining the status quo is going to be tough."
The rights are for three seasons starting in 2018, with Sky set to broadcast the majority of the games and DAZN winning a smaller chunk, the people said. German soccer magazine Kicker earlier reported DAZN's rights grab.
DAZN representatives didn't immediately respond to requests for comment. Sky and UEFA declined to comment.
It would be a major victory for DAZN, which pipes sports content such as soccer, tennis and basketball onto tablets, mobile phones and smart-TVs for about $10 a month. The company would gain a foothold with a major sport in one of Europe's biggest TV markets as it seeks to mimic the success in sports that Netflix Chief Executive Officer Reed Hastings has had streaming movies and TV shows since 2007.
Backed by Blavatnik's Access Industries Holdings LLC, DAZN also operates in Austria, Switzerland and Japan, where it paid 210 billion yen ($1.9 billion) for a 10-year deal to show J.League soccer. In Germany, it's already showing English Premier League soccer after snatching the rights from Sky.
The price of sports rights has been rising, and DAZN's entry adds to the pressure. Premium sports content is key to drive subscriber growth and that's why the value of rights has increased. BT Group Plc won a bidding war with a record 1.18 billion-pound ($1.53 billion) sum to retain Champions League rights in the U.K., 32 percent more than its existing contract.
DAZN's move is especially disruptive in Germany, where the media landscape for decades relied on premium sports content broadcast for free. According to Bild, public broadcaster ZDF, which had aired some of the games, abandoned bidding this time around when prices exceeded 70 million euros a year.
For tournament owner UEFA, the deal may lead to questions from sponsors like brewer Heineken NV, which has already expressed concern about a loss of visibility as games have increasingly moved from free channels to pay-TV.
Before it's here, it's on the Bloomberg Terminal.
LEARN MORE