Merkel Has the Edge in September's German Elections
The chancellor is reinforcing her image as an island of stability between Putin's Russia and an increasingly unpredictable Trump.
By , , and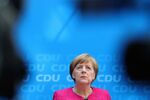 Shortly after Angela Merkel launched her campaign for a fourth term last winter, the German chancellor appeared to be running out of steam. Her open-door policy toward refugees—1.3 million of whom have arrived in the country since 2015—was driving some voters into the arms of the far-right nationalist Alternative for Germany party. On the left, the Social Democratic Party (SPD) was reinvigorated by the arrival of Martin Schulz, a former president of the European Parliament in Brussels who barnstormed the country to enthusiastic crowds seeking a fresh face. And with Brexit, the election of Donald Trump, and the wave of populism sweeping the globe, Merkel was looking increasingly isolated at home and abroad. After a February meeting of her Christian Democratic Union (CDU) and its Bavarian sister party in Munich, where Merkel appeared exhausted and miserable, the German press erupted in speculation that she lacked the energy to lead her party to victory.
Today, Merkel is back in form, reinforcing her image as an island of stability between President Vladimir Putin's Russia and an unpredictable Trump. The German economy is humming, the flow of refugees has slowed, and on May 14 the CDU surged ahead of the Social Democrats to take power in Germany's most populous state, North Rhine-Westphalia. That victory, in Schulz's home state, long an industrial stronghold for the Social Democrats, followed wins for the CDU in two other state elections since March.
Internationally, Merkel looks as strong as ever: On May 15, Emmanuel Macron dropped in, his first stop after being inaugurated as the French president the previous day. And over the next few weeks, Merkel will bolster her credentials as Europe's leading stateswoman at summit meetings with Trump and other global leaders in Hamburg, Brussels, and the Sicilian beach resort of Taormina. "Everybody said Merkel was tired and finished," says Annegret Kramp-Karrenbauer, a CDU member who won reelection as premier of the state of Saarland in March. "We proved that precisely the opposite is true."
The shift gives Merkel a strong tailwind as she heads toward the federal election in September. She's pledged to boost education, research, and innovation and to focus on job security. She's stressing the importance of free trade and keeping the European Union intact after Britain's decision to leave. And she's sharply criticized Trump for his proposal to restrict travel by citizens from six mostly Muslim countries. The situation looks good for the CDU, Merkel told members of her parliamentary caucus after the most recent state election. But party members must "keep their feet on the floor" and not become overconfident, she said. "Things can change very quickly."
After three consecutive defeats, Schulz is reinforcing his commitment to the basics of the Social Democratic platform. "Sometimes a boxer gets a punch to the gut," he told reporters the day after the latest vote. "But that doesn't mean the next round goes to the opponent." He's vowed to keep a lid on defense spending, deepen cooperation with Germany's neighbors, and increase public investment. He's called for tax relief for the poor and middle class and an increase in unemployment benefits. And he says he'd take a hard line on talks with Britain as it negotiates separation from the EU. "In the current international situation, a strengthening of Europe and a deepening of the euro area is in Germany's best interest," Schulz said.
So far, Schulz hasn't done much to distinguish his program from Merkel's—which he'll have to do if he wants voters to unseat her. Support for Merkel's bloc was 38 percent, 12 percentage points ahead of the SPD, in a national poll published by Forsa that had shown the parties in a dead heat in March. And the anti-immigrant Alternative for Germany, which polled at 13 percent earlier this year, has seen its fortunes fade and is now predicted to get less than 10 percent of the national vote. In North Rhine-Westphalia, the party received 7.4 percent—enough to gain its first seats in the state legislature, but far worse than its leaders had predicted. "Almost everybody in Europe expects Merkel to remain in power," says Famke Krumbmüller, a partner at political-risk consultant OpenCitiz in Paris. Last winter, "it turns out, was a Schulz moment rather than sustained Schulz momentum for the SPD."
The bottom line: After losing three consecutive state elections, SPD chief Schulz must distinguish his policies if he hopes to unseat Merkel.
Before it's here, it's on the Bloomberg Terminal.
LEARN MORE