In Corruption-Hardened Brazil, Latest Revelations Still Shock
By and
Country reels once again as new graft allegations emerge

Batistas lay out details of alleged scheme in video testimony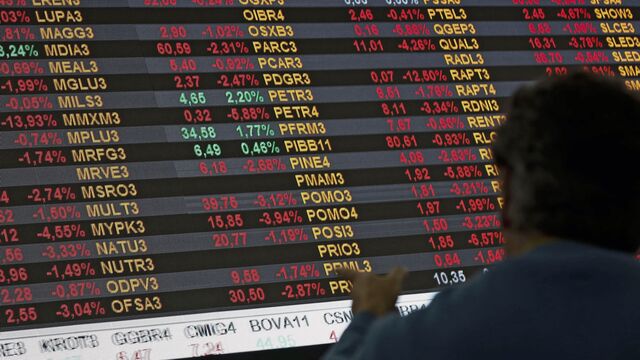 In the three years since Brazil's sweeping corruption scandal exploded, there have been plenty of jaw-dropping moments. But even in a nation hardened by allegations of crooked politicians and businessmen on the take, the latest crisis has come as a shock.
The details trickling out often seem to have come straight out of a best-selling political thriller. On Thursday, a Rio de Janeiro newspaper published photos allegedly showing a lawmaker and a senator's relative handling bags of cash at restaurants and at the Sao Paulo headquarters of meat company JBS SA.
On Friday, hours of video testimony released by the Supreme Court and published in local media showed JBS owners Wesley and Joesley Batista patiently detailing how they bribed lawmakers, pension-fund executives, ministers and governors.
President Michel Temer is allegedly part of the Batistas's plea deal with prosecutors, with press reports of a tape in which he allegedly endorsed Joesley's payment of hush money to a former lawmaker. That has prompted calls for him to resign a year into his presidency, which began following the impeachment of his predecessor Dilma Rousseff.
The revelations stunned investors who bought into his pledge to shore up the nation's finances, making the real and the benchmark Ibovespa stock index star performers last year. Since the latest allegations emerged the currency has erased this year's gains and the Ibovespa is down 12 percent.
'Huge Setback'
"It was totally unexpected. It wasn't even on anyone's radar," said Italo Abucater, the head of currency trading at ICAP do Brasil, who was in Brasilia with lawmakers when the allegations were first reported late Wednesday night. "Two presidents in two years. It's a huge setback."
At the center of it all are two brothers who benefited more than almost anyone during Brazil's boom years, and who appear poised to escape the worst fate of other tycoons caught up in Carwash, as the broader corruption scandal is known.
The brothers, who are credited with turning JBS into the world's largest meat producer through a $20 billion acquisition spree, are said to have reached a plea bargain with Brazilian authorities. They were accused of wrongdoing related to a transaction between JBS, their family holding company, and state-run banks and pension funds, according to documents released by the Supreme Court Friday.
Agriculture Ministry
As part of their plea agreement, the brothers submitted to prosecutors a recording that allegedly shows Temer approving a payment to Eduardo Cunha, the former head of the lower house who was jailed as part of Carwash, newspaper O Globo reported. The Batistas and other JBS executives also agreed to pay 225 million reais ($69 million) in fines, the company said in a statement Thursday.
The video testimony sheds light on alleged deals with state bank BNDES that involved a mandatory bribe of 4 percent, allegedly paid to an associate of former Finance Minister Guido Mantega. When it came to dealing with the pension funds, the Batistas skipped intermediaries and paid the top executives directly, according to the testimony. There were also bribes for representatives of the agriculture ministry. The brothers said they even advised Cunha, the disgraced lawmaker, against trying to start his own corruption scheme at the ministry because too many bribes were being paid already.
BNDES and the ministry didn't immediately reply to requests for comment on the testimony. A lawyer for Mantega didn't return request for comments made after business hours. Cunha, who has been in jail for months, has repeatedly denied any wrongdoing. Temer said this week he did nothing wrong and has vowed to clear his name of allegations related to Carwash.
How Brazil's New Political Crisis Might Play Out: QuickTake Q&A
The revelations illustrate how deeply embedded the Batistas are in both the country's business community and its political life. JBS and other companies under the J&F umbrella have made campaign donations to almost a third of representatives in Brazil's chamber of representatives. They doled out a record 387 million reais in the 2014 elections, according to Brazil's electoral tribunal. JBS was the biggest campaign donor that year for the re-election of Rousseff, as well as for the loser in the presidential race, Aecio Neves, who has also been swept up in the most recent allegations. The now-suspended senator has also denied wrongdoing.
Carwash is not the only investigation the Batistas and their companies have been linked to. Others include a recent probe known in Brazil as Weak Flesh in which some meat producers were accused by the police of paying bribes to federal inspectors to clear the sale of tainted meat. JBS denied any wrongdoing in that case. Separately, transactions between JBS and BNDES have been investigated by Brazil's federal audit court for more than a year.
Brazil's Batista Clan: a Short Guide to an Empire Built on Beef
Joesley, 45, who is JBS's chairman, was last month ordered by a federal court judge to step down as chairman of J&F and of the family's pulp company Eldorado Brasil Celulose SA. Last year, Joesley and Wesley -- JBS's 47-year-old chief executive officer -- briefly stepped down at the meat company following a court order connected to a probe into pension-fund fraud. The building in Sao Paulo that serves as the headquarters for JBS and J&F has been searched by police on at least two separate occasions.
— With assistance by Paula Sambo
Quotes from this Article
Before it's here, it's on the Bloomberg Terminal.
LEARN MORE