Five Things You Need to Know to Start Your Day
Get caught up on what's moving markets.
By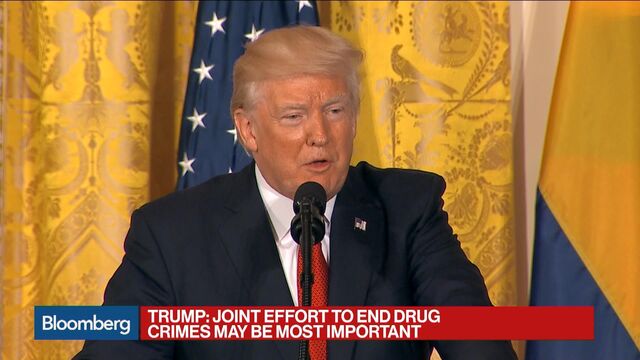 Want to receive this post in your inbox every morning? Sign up here
Trump heads to the Middle East, Temer says he won't step down as chaos engulfs Brazilian markets, and global stocks pause their selloff. Here are some of the things people in markets are talking about today.
Trump travels
U.S. President Donald Trump will hope for some respite from what he described as the "witch hunt" in Washington when he departs today for an eight-day trip to the Middle East and Europe. The tour, which includes meetings with key allies, will challenge the president's diplomatic powers, with Richard Haass, president of the Council on Foreign Relations, saying it will test "whether he is up to the job." 
Temer vows to fight
Brazil's President Michel Temer declared he won't step down, saying that a full investigation would reveal his innocence on allegations of a cover-up. His comments come after a chaotic day in the country's markets as the currency, stocks and bonds all tumbled, with the real posting its biggest slide since 1999. The forces aligned against the president may result in Brazil facing its second impeachment in a year. 
Iran election 
Continuing this morning's presidential theme, voting is underway in Iran's election, which pitches incumbent Hassan Rouhani against hard-line cleric Ebrahim Raisi. The vote is seen as a referendum on Rouhani's policy of engaging with the West, and is the first since the 2015 nuclear deal was signed. 
Markets stable
Overnight, the MSCI Asia-Pacific Index rose 0.2 percent, with Japan's Topix index adding 0.3 percent, and Indonesian stocks getting a lift when S&P Global Ratings raised the country to investment grade. In Europe, the Stoxx 600 Index was also higher, gaining 0.6 percent by 5:48 a.m. Eastern Time. S&P 500 futures pointed to a gain at the open. 
China stability 
With stocks and bonds in China under pressure amid the country's deleveraging campaign, policy makers there have turned to the daily yuan fixing to prevent jitters  spreading to the foreign-exchange market. Officials have been guiding the currency higher, with the reference rate coming in above analysts' expectations in 25 of the past 32 trading days. In an effort to bring some stability to the commodities market, the government has decided to open up domestic exchanges to allow more foreign investors in an attempt to help the world's biggest commodity importer become more of the price-maker. 
What we've been reading 
This is what's caught our eye over the last 24 hours.
Quotes from this Article
Before it's here, it's on the Bloomberg Terminal.
LEARN MORE