Bullard Sees Weak Data Contradicting FOMC's Rate-Hike Path
By
St. Louis Fed president cautions rate path 'overly aggressive'

Bullard says low unemployment not likely to spark inflation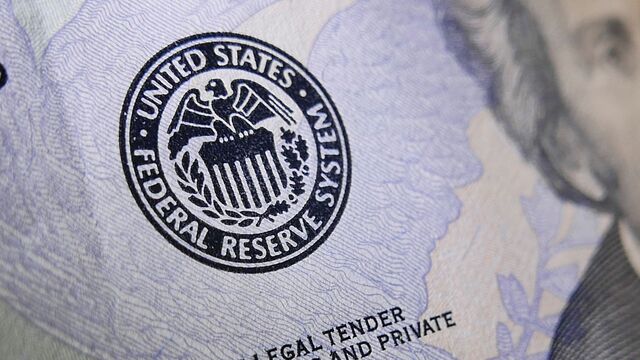 Federal Reserve Bank of St. Louis President James Bullard said recent economic data have been weak and the Federal Open Market Committee's projected path for raising interest rates may be too steep.
Since March, "longer-term yields have declined, inflation expectations have weakened, and market expectations of the policy rate path have declined," Bullard said Friday in St. Louis. "This may suggest that the FOMC's contemplated policy rate path is overly aggressive relative to actual incoming data on U.S. macroeconomic performance.''
Fed officials left interest rates unchanged at their meeting earlier this month, indicating that a disappointing start to the year wouldn't stop them from raising rates twice more in 2017 following a hike in March.
In their statement, policy makers described as "transitory" a slowdown in first-quarter growth, while emphasizing that inflation was running close to their 2 percent goal and the labor market continued to strengthen.
Bullard, who does not vote on the FOMC this year, is one of its most dovish officials. In March he projected just one hike in the target range for the federal funds rate until end-2019. The median estimate among his colleagues is for two more hikes this year and for the benchmark rate, currently 0.75 percent to 1 percent, to be 3 percent by the end of 2019. His argument is that the U.S. economy has been saddled with persistently low growth, so there is little need to raise rates by much.
Wouldn't Oppose
Speaking with reporters after his speech, Bullard said "If we wanted to do another rate increase, I probably wouldn't oppose it. But I do object to the idea that we need to march up 200 basis points in order to get to some kind of neutral policy."
He also played down the fallout for the real economy from political developments in Washington, where President Donald Trump's White House is engulfed in controversy following his firing last week of FBI Director James Comey and ongoing probes of possible ties between Trump's election campaign and Russia.
"Even if there is political turmoil, it would just mean that Washington was paralyzed in terms of making macroeconomic policy decisions. But that wouldn't be any different than divided government which we have had in the past," he told reporters. "So I guess it would just be back to the situation back where not too much would come out of Washington in terms of macroeconomic policy."

During his presentation, Bullard said inflation and inflation expectations have surprised to the downside in recent months and while the unemployment rate has fallen to 4.4 percent, the lowest since 2007, that may not bring a change in trend. Growth in payrolls has slowed in the past year even as the jobless rate has dropped, he said.
"Low unemployment readings are probably not an indicator of meaningfully higher inflation over the forecast horizon," he said. "Even if the U.S. unemployment rate declines substantially further, the effects on inflation are likely to be small.''
Before it's here, it's on the Bloomberg Terminal.
LEARN MORE