U.K.'s May Opens Door to Facebook Tax in Push for Safer Web
by and
Levy on social media could set a precedent for other countries

Conservatives want to make web safer for young people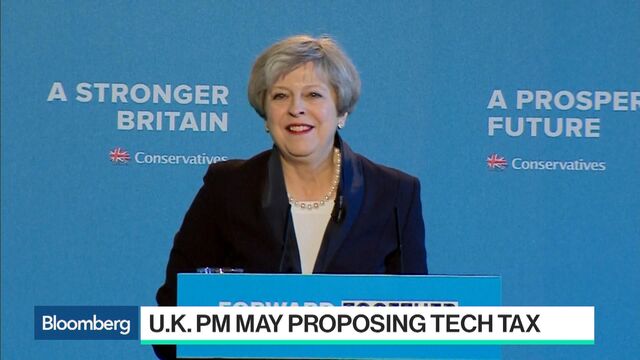 Twitter Inc. and Facebook Inc. may face a new tax in the U.K. should Prime Minister Theresa May's Conservatives get re-elected as polls suggest on June 8.
The Tories promised Thursday to introduce a law that would allow the government to impose a levy on social-media companies and communication service providers, to fund measures aimed at making the internet safer for young people. Internet providers like BT Group Plc won't be affected, a Conservative campaign spokesman said.
The 84-page document offered no detail on which companies would be hit, the amounts being contemplated or whether the party would move forward with a concrete proposal. While "communication service provider" is the common term for firms that deliver Internet connections, executives from those companies were briefed by party officials this week that it wouldn't affect them, according to people familiar with the matter.
Any levy could set a precedent for other countries, giving the U.K. new resources amid a global push by companies, governments and the public to tackle hate speech and online bullying. The fees would "support awareness and preventative activity to counter internet harms," similar to an existing tax on the gambling industry, according to the party's manifesto.
Facebook Chief Executive Officer Mark Zuckerberg recently announced plans to hire 3,000 additional staff to monitor or respond to malicious posts made by users, in an effort to help prevent circumstances such as live suicides or serious crimes.
The tax is part of a broader Tory proposal to protect data privacy and tackle cyber security, top of mind for Britons following an unprecedented ransom-ware attack that shut down much of Britain's National Health Service last week.
"We are optimistic about the opportunities on offer in the digital age, but we understand these opportunities come with new challenges and threats – to our security, privacy, emotional well-being, mental health and the safety of our children," the document says. "A Conservative government will respond to these challenges, to assure the British people of security and fairness in the new digital age."
The Tories would also require social-media companies to delete information about young people as they turn 18.
Representatives from Twitter didn't respond to a request for comment and Facebook and Google declined to comment.
Before it's here, it's on the Bloomberg Terminal.
LEARN MORE