Net Neutrality Gets FCC Vote as Cable Pledges Good Behavior
By
FCC under Republican Pai moving to dismantle Obama-era rules

Change attracts John Oliver remarks and 1 million comments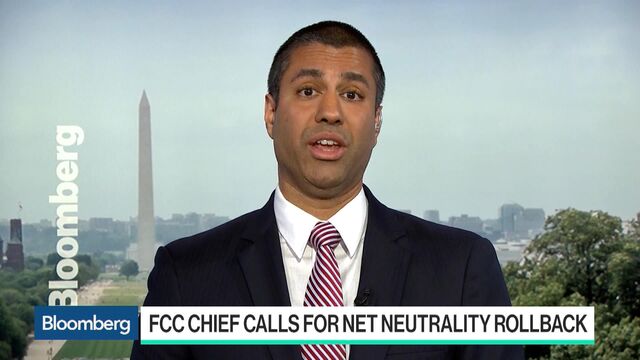 The U.S. Federal Communications Commission plans a preliminary vote Thursday on dismantling Obama-era net neutrality rules, a change supported by broadband providers who say they won't impede internet service and opposed by web companies that fear barriers to reaching customers.
The vote is a first step in Republican Chairman Ajit Pai's plan to replace rules passed in 2015 by FCC Democrats. Pai would remove strong utility-style legal authority that critics say over-regulates telephone and cable providers, and that defenders say is needed to enforce fair treatment of web traffic. The action begins months of consideration leading to a second, conclusive vote.
The net neutrality rules bar internet service providers such as AT&T Inc., Comcast Corp. and Verizon Communications Inc. from blocking or slowing some web traffic in favor of other content -- their own or a paying customer's. The prospect of changing the rules produced a public outpouring, with the FCC registering more than 1.6 million emailed comments -- many after TV comedian John Oliver urged viewers to act.
Republicans oppose the Obama-era regulation, saying it discourages investment and hamstrings broadband companies. The rules were passed at the urging of President Barack Obama, and Democrats say they're needed to prevent unfair treatment of web traffic by companies that control access to homes and smartphones.
Why Republicans Want to Nix U.S. Net Neutrality Rules: QuickTake
Pai, designated chairman by President Donald Trump, said in his proposal that he was moving toward light regulation and away from a "massive and unprecedented shift in favor of government control of the internet."
Pai asked the agency to consider lifting bans on blocking web traffic or on building "fast lanes" that favor those willing to pay more for faster service. He also asked whether to keep a ban against impairing or degrading web traffic, known as throttling.
The rules change is likely to pass the FCC, where Pai leads a 2-1 Republican majority. It probably will be challenged in federal court, just as the 2015 rules were. They were upheld last year by a three-judge panel.
NCTA - The Internet and Television Association, a trade group with members including largest U.S. cable provider Comcast and No. 2 Charter Communications Inc., said in a blog post Wednesday that "no matter what happens with this new FCC proceeding or whatever regulatory model comes next, we will continue to provide an open internet experience for our customers."
The Internet Association, with members including Alphabet Inc.'s Google, Amazon.com Inc., Facebook Inc. and Netflix Inc., opposes the change.
"The current FCC rules are working for consumers, and the protections need to be kept intact," Michael Beckerman, president of the Internet Association, said in a press call Wednesday. He said broadband providers have "gatekeeper status" and might want to favor their own products over competitors' offerings.
Before it's here, it's on the Bloomberg Terminal.
LEARN MORE