business
Mnuchin May Face Fight With Watt Over Fannie-Freddie Dividends
By
Treasury secretary tells senators payments should continue

FHFA chief said last week the companies should build capital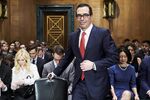 Treasury Secretary Steven Mnuchin is on a collision course with the U.S. regulator for Fannie Mae and Freddie Mac after telling lawmakers that he expects the mortgage-finance giants to continue paying dividends to the government.
Mnuchin's comments at a Senate Banking Committee hearing Thursday came a week after Federal Housing Finance Agency Director Mel Watt told the panel that he might tell the companies to withhold money to build buffers against potential future losses.
The disagreement between President Donald Trump's Treasury chief and one of the most powerful holdovers from Barack Obama's administration could come to a head as soon as late June, when Fannie and Freddie are next scheduled to pay dividends to the Treasury. Since their 2008 bailout, the companies have paid the Treasury about $266 billion, not including an expected $5 billion payment in June.
The FHFA, an independent agency created during the financial crisis, has often found itself at odds with the party in power at the White House. The regulator has sole control over Fannie and Freddie, but the companies have contracts with the Treasury that require them to turn over nearly all profits to taxpayers.
New Downturn

The agreements also require Fannie and Freddie to reduce their capital buffers each year until hitting zero in 2018. In exchange the Treasury has agreed to provide as much as $258 billion should they face a new downturn.
Watt told lawmakers last week that he believed a need to draw new aid could lead to problems in the mortgage market, and that it was his responsibility to ensure that didn't happen. On Thursday, Mnuchin made clear that the Trump administration doesn't agree.
"I've had the opportunity to meet with Mel Watt several times," he told lawmakers. "Last time we talked about the dividend extensively and I did tell him that it was our expectation at Treasury that they would pay us the dividend and we hope they continue to do so."
Under the terms of the agreements, Fannie and Freddie would pay combined dividends of about $5 billion by June 30.
An FHFA spokeswoman declined to comment and referred to Watt's earlier statements. Watt and other agency officials have said Congress must ultimately decide what to do with the housing-finance system but that they believe Fannie and Freddie should have a buffer to protect against small quarterly losses. Watt told lawmakers he believed he has the legal authority to withhold those payments.
Previous Clashes
The FHFA sometimes clashed with the Treasury Department during the Obama administration. In 2015, Watt gave $3.4 million raises to the chief executive officers of Fannie and Freddie before a law was enacted to undo them. In 2012, Watt's predecessor refused to allow the companies to cut mortgage principal balances despite entreaties from then-Treasury Secretary Timothy Geithner.
Watt's term doesn't end until 2019. Before then, he can only be removed for cause. Some lawmakers and courts have suggested that the president should have more power to control single-director agencies such as the FHFA.
Fannie and Freddie form the backbone of America's mortgage market. They don't make loans themselves, but buy them from lenders, wrap them into securities and provide guarantees in case homeowners default.
The government took over the companies in 2008, eventually injecting them with $187.5 billion in bailout money. In the past few years, the companies have been profitable and have paid taxpayers more in dividends than they took.
Lawmakers have tried more than once to pass legislation that would replace Fannie and Freddie with a new housing-finance system but have never succeeded, amid disagreements on how much the government should subsidize the market and how to keep access to the system for small lenders and less-well-off borrowers.
On Thursday, Mnuchin told lawmakers that the administration would focus on Fannie-Freddie reform in the second half of the year and would give a specific set of recommendations on what to do with the companies after talking to stakeholders. He said it was his "strong preference" to work with Congress on a bipartisan plan.
Before it's here, it's on the Bloomberg Terminal.
LEARN MORE