May Takes on Business as Tories Woo British Working Class
By and
Manifesto promises reduced immigration, tighter regulation

Thatcher's party rejects 'cult of selfish individualism'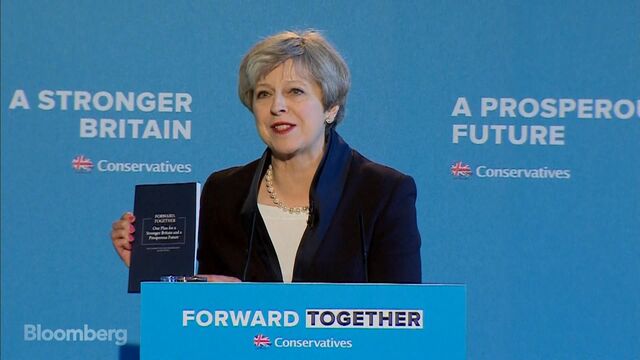 Theresa May presented herself to voters as the champion of Britain's "ordinary, working people," positioning her Conservative Party as one that stands against "elites" and will rewrite the rules of business.
Setting out what she will do if she wins the June 8 election, the prime minister repeatedly said on Thursday she wants a country that is "fair." For traditional Tory voters, the bad news is that means wealthy older people paying for their own care. For business, it means tighter rules on how companies treat their staff and customers, and how much they pay their bosses. It also means curbs on bringing in cheap workers from abroad.
"We do not believe in untrammeled free markets," the introduction to the manifesto said. "We reject the cult of selfish individualism." True Conservatism, it said, meant "a belief not just in society but in the good that government can do."
That is a shift not just from the politics of her predecessor David Cameron, but also of Margaret Thatcher, who was skeptical of the benefits both of government and of society.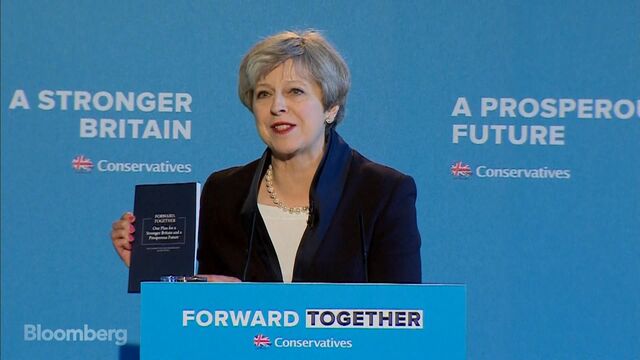 May denied she was setting out a new philosophy. "There is no 'Mayism,"' she told reporters in Halifax, a town in northern England. "There is good solid Conservatism, which puts the interests of the country and the interests of ordinary working people at the heart of everything we do."
Polls put May on course for a landslide win. The opposition Labour Party currently holds the district where the prime minister was speaking by fewer than 500 votes, meaning it's likely to be one of the first places to fall to the Tories next month. The Conservatives last took it in 1983, when Thatcher led the party.
The 84-page Tory manifesto was a mix of the specific and the vague. It promised a review of the way honors are awarded, and set out the plans for elderly care in detail, but said nothing about headline rates of tax, and offered few new hints on May's ideal Brexit settlement.
Read more: U.K.'s May Commits Tories to Hard Brexit Stance in Manifesto
After decades in which both Conservative and Labour governments have relied on free markets and relaxed immigration rules to deliver increasing prosperity, May said that the formula hasn't delivered. The manifesto revealed more worker protections while "making executive pay packages subject to strict annual votes by shareholders."
May will subject mergers and acquisitions to more scrutiny, make sure foreign ownership of crucial infrastructure doesn't undermine security or "essential services," and allow bids to be stalled while authorities probe the details. Workers will also be represented on boards, the party pledged. A Conservative government would also create sovereign wealth funds with the revenue from fracking.
"We do believe in responsible business," May said. "I think if you talk to business people they will also say that it's better to have an engaged workforce. That's why I think it's right to say that we need to ensure that workers have protections."
— With assistance by Svenja O'Donnell
Quotes from this Article
Before it's here, it's on the Bloomberg Terminal.
LEARN MORE