Waze Wants to Help You Hitch a Ride
The traffic app tries its hand at carpooling.
By and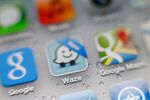 Over the almost four years since it paid $1.1 billion for navigation startup Waze, Google Inc.'s plans for the traffic-avoidance app haven't always been clear—even to the people who work there. Di-Ann Eisnor, Waze's head of growth, says she was languishing inside the Google behemoth; her stock options payout didn't make her feel much better. "I had just made a bunch of money. I should have been happy," she says. In 2015, two years in, her feelings hadn't changed much. Eisnor says she and other executives huddled in Waze's Tel Aviv offices to ask, "How the hell are we going to stay here if we're bored?"
Instead of leaving the company, the group decided to expand Waze beyond avoiding traffic accidents and speed traps. Waze Carpool, a separate app, started as a small pilot in Israel that year and is now also available in San Francisco and, soon, Brazil. A more literal ride-sharing service than taxi alternatives such as Uber Technologies Inc. and Lyft Inc., Waze Carpool lets drivers schedule passenger pickups along their planned routes in exchange for a few bucks worth of gas money from riders, or even to just speed up their commutes with access to the carpool lane. Riders can book at the last minute or reserve in advance. To discourage cancellations, rider and driver profiles share personal information that the users have agreed to supply from Facebook or LinkedIn.
While the system can create some awkwardness—Eisnor says she won't use the carpooling app to get herself home from the gym, because she's leery of sweating in the driver's car—she's been encouraged by the results. Thousands of people are using Waze Carpool, and some drivers give the same people regular rides to work. Waze is preparing to expand the service to more cities around the world by the end of the year.
The company says the informal service isn't meant to compete with the likes of Uber, an early Google investment turned bitter rival in the race for driverless cars. (Waymo, the self-driving car project owned by Google parent Alphabet Inc., said on May 14 that it will test and refine its technology in partnership with Lyft.) The model's closest analog may be BlaBlaCar, a Paris startup with an app that's helped spread carpooling across Europe, or the informal hitch-a-ride spots in U.S. cities like Seattle, San Francisco, and Washington. Eisnor says her main goal is to reduce pollution and insists that Waze doesn't want professional drivers involved. Each user can give only two rides per day, and fees are capped.
Waze hasn't finalized its payment structure but says it won't deliver drivers more than 54¢ per mile in the U.S., meaning they won't have to declare it as income. A recent Waze Carpool ride from San Francisco to Mountain View (about 38 miles) cost $8.60, about one-fifth of a comparable Uber trip. "We have some real market forces that are going to make sure there's no gouging," Eisnor says, meaning there won't be any Uber-style surge pricing.
Waze is betting this more-casual structure will help it avoid the regulatory issues Uber has faced. On May 11, an advisory panel to the European Union's high court recommended that the court deem Uber a transport service instead of a software company, which would subject it to much more stringent regulations. Waze Carpool may have to worry about similar issues in the future, though; Eisnor says the company hopes to eventually take a cut of rides set up using the app, and predicts that money from rides will overtake advertising to become Waze's biggest source of revenue.
A more immediate challenge for Waze is that matching riders and drivers requires a much different set of tools than building a navigation system, says Jennifer Belissent, an analyst for Forrester Research Inc. That said, Waze's name recognition, and its user base of 80 million, give it a better chance than most to succeed, she says.
June will mark the four-year anniversary of Waze's acquisition, and another stock-vesting payout, a time when employees tend to leave in droves. While Eisnor won't make any promises for her colleagues, including the other executives in that 2015 meeting, she says she's staying. The challenges of the carpool app have staved off boredom—for the time being. "If we're six months from now and we're not giving you really amazing statistics," she says, "I'm going to be pissed off."
The bottom line: Waze is preparing to launch its carpool service globally this year, betting that many of its 80 million users will try the new app.
(Updated second paragraph to correct Waze Carpool's availability in Brazil and third paragraph to correct the extent of the company's expansion plans.)
Before it's here, it's on the Bloomberg Terminal.
LEARN MORE