Five Things You Need to Know to Start Your Day
Get caught up on what's moving markets.
By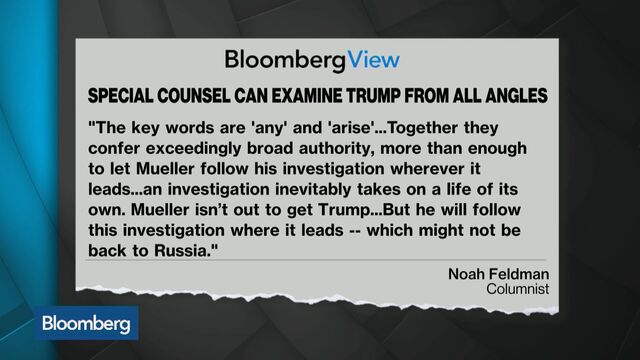 Want to receive this post in your inbox every morning? Sign up here
A special counsel's been appointed to the Russia probe, the pound rises above $1.30, and Brazil plunges back into political crisis. Here are some of the things people in markets are talking about today.
Mueller appointment
The Justice Department named ex-FBI Director Robert Mueller as special counsel to oversee the investigation of both Russia's efforts to influence the 2016 U.S. election as well as any possible collusion by President Donald Trump's campaign associates. The president said in a brief statement that he is looking forward "to this matter concluding quickly." Meanwhile, several U.S. congressional panels are pushing for testimony from fired FBI Director James Comey following earlier reports of a memo alleging that the president asked him to drop an investigation of former National Security Adviser Michael Flynn.
Markets drop
Asian and European markets followed Wall Street lower overnight, with the MSCI Asia-Pacific Index down 0.7 percent and Japan's Topix index falling 1.3 percent despite data showing  strong economic growth. In Europe, the Stoxx 600 Index was 1 percent lower at 5:44 a.m. Eastern Time, adding to yesterday's decline which was the largest in nearly eight months. S&P 500 futures also point to a lower open on Thursday. 
Pound rally
The British pound broke through $1.30 for the first time since September 2016 this morning after the release of unexpectedly strong retail sales data for April. The volume of goods sold in stores and online increased 2.3 percent in the month, well ahead of expectations for a 1.1 percent gain. Also in the U.K. today, the Conservative Party is expected to launch their election manifesto.
Brazil turmoil
Political turbulence made an unwelcome return to Brazil after one of the country's largest newspapers reported that a secret recording exists of President Michel Temer approving a payment to Eduardo Cunha, the mastermind behind last year's impeachment of former president Dilma Rousseff. Lawmakers called for Temer's resignation last night, putting at risk the president's reform program that had buoyed markets. The country's stocks and currency are expected to drop sharply in Thursday's trading. 
Coming up...
Initial jobless data for the U.S. is due to be released at 8:30 a.m., with this week's release due to attract extra attention at it coincides with the May employment survey period. In earnings today, it is old versus new in retail as Wal-Mart Stores Inc. and Alibaba Group Holding Ltd. are both due to report.
What we've been reading 
This is what's caught our eye over the last 24 hours.
Quotes from this Article
Before it's here, it's on the Bloomberg Terminal.
LEARN MORE