Even OPEC Deal May Not End Woes for World's Worst Equities
By
Energy stocks are the worst performers globally this year

OPEC nations, partners to meet next week about deal extension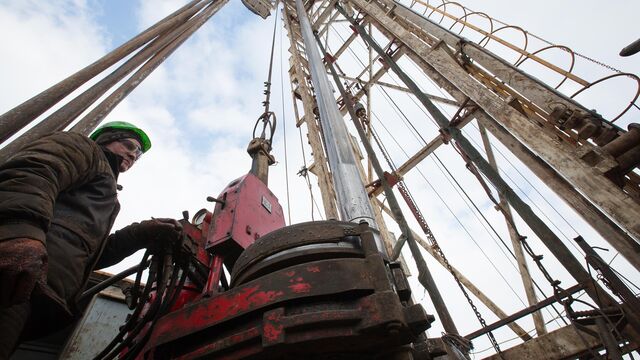 Not even an extended OPEC deal may suffice to lift the world's worst-performing equities this year out of misery.
Oil stocks have tumbled 6.6 percent this year, the only group to decline in the MSCI All-Country World Index. While the Organization of Petroleum Exporting Countries and its partners are expected to prolong output cuts into early 2018 at next week's meeting, the benefit to energy shares will likely be short-lived, say investors and analysts.
"We don't think the oil price will go much higher so there isn't enough room for energy stocks to rally," Simon Wiersma, an Amsterdam-based investment manager at ING Bank NV, which oversees about 26 billion euros ($29 billion), said by phone. "The positive response to the output cut may disappear or water down because there's always the question over which countries will follow through on the production cuts."

Energy shares, last year's biggest winners, have tumbled in 2017 as oil retreated on concern about increasing U.S. output. While Russia and Saudi Arabia said this week they're in favor of extending output curbs until March to shrink global stockpiles, Societe General SA said this isn't a "game changer" for the oil price. The next OPEC meeting is in Vienna on May 25.
"Stable oil prices between $50 and $60 per barrel are currently priced into oil shares," Rob West, an analyst at Redburn (Europe) Ltd., a London-based equity broker, said by email. He has an underweight rating on the oil sector. "Deepening the cuts will reassure the market, but some investors may start wondering about the consequences when OPEC eventually 'uncuts'."
The 11 non-members joining OPEC's effort have only implemented about two-thirds of their promised reduction so far, according to the International Energy Agency. Cutbacks in Russia came alongside seasonal stagnation in activity, and prolonging them would thwart plans by companies to expand production. To keep a lid on output this summer, Saudi Arabia will need to sacrifice an even bigger share of exports as consumption at home rises.

"If we reach $60 per barrel by the end of the year, that might encourage Saudi Arabia and others to increase production and reap some of the increased cash flow for budgetary needs," Angelos Damaskos, a portfolio manager of U.K.-based MFM Junior Oils Trust Fund, said by phone. His fund returned 20 percent in the past year, but is down 9.4 percent in 2017, data compiled by Bloomberg show. "But I don't think Saudi Arabia will do it while we stay at $50."
Adding to oil concerns is the turmoil surrounding U.S. President Donald Trump after by a series of damaging revelations. That's countering optimism spurred by recent government data showing a sixth straight weekly drop in U.S. stockpiles and the first decline in 13 weeks for crude production, ending the longest stretch of gains since 2012.
West Texas Intermediate for June delivery dropped as much as 2.1 percent to $48.05 a barrel on Thursday even as Algeria, which was instrumental in crafting OPEC's deal last year, said a nine-month extension to the accord would be backed by most participating nations.
Still, investors looking for better payouts may stick to the sector. Free cash flow at the world's largest energy companies in the first quarter surged to levels last seen when oil was at $100 a barrel. Oil companies exercise greater capital-expenditure discipline to encourage markets, which bodes well for dividend payouts, but it doesn't indicate a return to high oil prices, according to William Hobbs, head of investment strategy at Barclays Plc's wealth-management unit in London.
"The point in all this is that we shouldn't be planning for $100 oil any time soon, absent a major supply shock of one sort or another," Hobbs said by email. "We are not wild about oil stocks in such a context."
— With assistance by Grant Smith
Before it's here, it's on the Bloomberg Terminal.
LEARN MORE