Canada Backs 'Magnitsky Law' to Expand Sanction Powers
by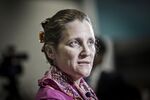 The Canadian government will back legislation allowing the country to impose sanctions on human rights abusers in foreign countries.
Foreign Minister Chrystia Freeland announced Wednesday the government would back the proposed Canadian law that is named for late Russian lawyer Sergei Magnitsky, whose arrest and death in prison drew international attention. The U.K. government backed a similar law earlier this year.
The government favors expanding the power to impose sanctions "to include cases of gross violations of human rights and foreign corruption," Freeland said in Canada's House of Commons on Wednesday. "In Canada and around the world, the issue of human rights sanctions and the Sergei Magnitsky case have drawn strong interest, and rightly so."
Freeland is an outspoken critic of Russian President Vladimir Putin and is presently banned from entering the country. Magnitsky was a lawyer for Hermitage Capital Management Ltd. who died in a Moscow prison in 2009 after alleging a $230 million tax theft from the Russian treasury. The case has also sparked U.S. sanctions.
The law was approved by Canada's Senate last month and is now before the elected House of Commons, where Prime Minister Justin Trudeau's Liberals have a majority that all but guarantees the law will pass. Freeland said the government will seek technical amendments.
Before it's here, it's on the Bloomberg Terminal.
LEARN MORE