Brexit Bulletin: The Business of Divorce
By
Juncker says the split is in the hands of divorce lawyers now

May to pledge smooth and orderly Brexit in manifesto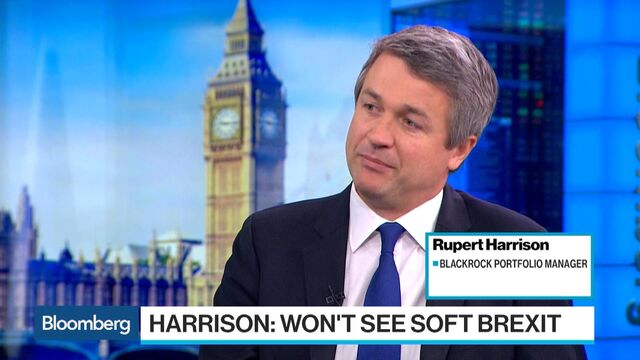 Sign up to receive the Brexit Bulletin in your inbox, and follow @Brexit on Twitter.
U.K. Prime Minister Theresa May once said she didn't like Brexit being labeled a "divorce."
But that's exactly how European Union policy makers view it. "This negotiation is now in the hands of our capable divorce lawyers," European Commission President Jean-Claude Juncker said on Wednesday.

The issue is more than linguistics. Juncker's message is that the EU will approach the breakup in a technocratic way and offer May limited scope to use politics or emotion to influence the negotiations.
While she may hope to exert leverage to win a favorable split and then a trade pact, she's being told she must first slog through a slew of financial and legal complexities such as the infamous Brexit bill.
"We are going to have to unravel 44 years of integration, economic relations, financial, technical, legal, human, social relations," EU negotiator Michel Barnier said. "No one should underestimate any of the consequences here or the legal complexity of this separation."
May reiterated on Thursday that she wants a "smooth and orderly Brexit" as she prepared to launch her election manifesto before the election on June 8.
Meanwhile, German Chancellor Angela Merkel said the U.K. will pay a price if it curbs immigration from the EU, highlighting her uncompromising stance. Germany's Social Democratic Party broadly backed Merkel's stance, saying that while close security ties with the U.K. are important, "the most important German interest for us is to defend European unification."
On the Campaign Trail
As the Conservatives prepare to set out their policies, May rejected an agenda "defined by elites in Westminster," and pledged to govern "in the interests of the mainstream of the British public." Thursday morning headlines saw the party tell wealthy elderly voters that their homes may be sold after their deaths to pay their care bills.

That politically loaded policy suggests she is confident of winning big, allowing her to also deliver on other commitments such as doubling the levy charged on businesses for hiring migrant workers.
"The next five years are the most challenging that Britain has faced in my lifetime," May will say at the manifesto launch. "Brexit will define us: our place in the world, our economic security and our future prosperity."
In case you missed it, here's our analysis of why the manifesto is important for Brexit.
A YouGov poll in the Times today puts support for the Conservatives at 45 percent, with Labour on 32 percent.
Less Business-Friendly
The Brexit vote taught May that people were angry with inequality and with business as usual, Bloomberg's Alex Morales, Robert Hutton and David Hellier report on Thursday. Now she's aiming to channel that frustration and win support among the electorate.
At stake is whether she can find a middle path that addresses voters' objections to capitalism without undermining U.K. business and the economy. The risk is that to some May is now the least business-friendly Tory leader in decades.
"Theresa May knows she's got the right-wing vote sewn up, so she's been trying to take as many votes as she can from Labour," said Jon Moulton, founder of the private equity group Better Capital and chairman of broker FinnCap. "But some of her policies will leave things very hard for business. If she puts too many employee friendly policies in place the U.K. market will just become a less competitive place."
A Cheaper Bill?
The U.K. may have to pay as little as £5 billion ($6.5 billion) or no more than £30 billion to leave the EU, according to a study by the chartered accountancy industry.
The figure, via the Institute of Chartered Accountants in England and Wales, is well below the 60 billion euros (£52 billion) often mooted by regional leaders, or the 100 billion euros which has been mentioned more recently.
Economist Andrew Lilico has argued it should be easier to calculate the sum than commonly thought because it should be based on the existing principles of EU membership.
On the Markets
May on Wednesday sought to argue that the pound's recent slide began before Britons backed Brexit.
"If you look at what happened to sterling, sterling had started to fall back before the referendum vote came through," she said. "So there have been adjustments to sterling. It isn't just that sterling has gone down. We've seen currencies move around as currencies do."
While the Bloomberg British Pound Index had fallen for three straight quarters from the middle of 2015, it had strengthened for three months in the run-up to the June referendum.
Brexit Bullets
Britons' falling real wages show challenging times have arrived for the economy
May stops short of pledging to keep Philip Hammond as Chancellor of the Exchequer after election
Spanish Prime Minister Mariano Rajoy is setting up a taskforce in London to help Spaniards in the U.K. deal with Brexit
BNP Paribas may move 300 London jobs due to Brexit, Reuters reports
Polish workers are losing their interest in moving abroad amid a renaissance on the nation's job market, according to human services provider Work Service
There are "no meaningful" changes in euro-denominated clearing volumes currently between London and the continent, Deutsche Boerse says
German economic advisers recommend U.K. joining the European Free Trade Association if it can't secure a new free-trade deal with the EU, says FAZ.
And Finally
Germany's Merkel isn't just worried about the passage of people to and from post-Brexit Britain.
She also noted yesterday that there are "250,000 house pets – cats and dogs – that move each year from Britain to continental Europe or vice versa."
"Now we'll need vaccination records, hygiene certificates – the kinds of things that we can't even remember anymore," Merkel said. "It'll be very, very complicated."

For more on Brexit follow Bloomberg on Twitter, Facebook and Instagram, and see our full coverage at Bloomberg.com
Before it's here, it's on the Bloomberg Terminal.
LEARN MORE