Brazil's Crisis: A Guide to Those Who Might Bring Down Temer
By and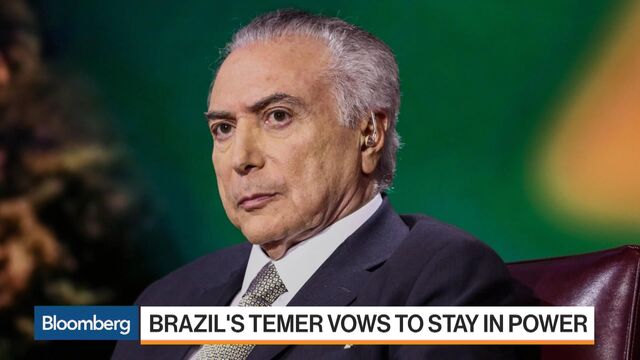 Brazil is again mired in deep political crisis after allegations that President Michel Temer approved a cover-up involving the jailed politician who masterminded his predecessor's impeachment. 
Brazilians are perplexed by the scandal's magnitude and it's suddenly uncertain that Temer will finish his term ending next year, whether due to resignation, impeachment or a decision by the country's electoral court.
Who's who in this fast-moving scandal?
Wesley Batista and Joesley Batista, 47 and 44

The billionaire brothers who control JBS, the world's largest meat producer, have struck a plea bargain with the Supreme Court that could topple Temer. It reportedly includes a recording of the president approving payments to former lower house speaker Eduardo Cunha in exchange for his silence.
JBS's fortune soared during the commodities boom of the 2000s as it embarked on an aggressive campaign of international acquisition. It also received billions of reals in investments and subsidized loans from state development bank BNDES -- operations that are now under police investigation. The company was the biggest campaign donor to each of the presidential candidates who reached the 2014 run-off, Dilma Rousseff and Aecio Neves.
Senator Aecio Neves, 57

Neves was leader of Temer's main coalition partner, and his implication in the scandal throws Temer's reform drive into disarray. After losing the 2014 presidential election by a razor-thin margin, he became the face of the opposition as head of the Brazilian Social Democracy Party, which helped Temer take power.
His name was cited in O Globo's report on the plea bargain signed by the Batista brothers, and police raided his office and homes on Thursday. His party removed him from its presidency and Supreme Court Justice Luiz Edson Fachin suspended him from the Senate.
Justice Luiz Edson Fachin, 59

One of the Supreme Court's 11 justices, Fachin is responsible for accepting plea bargains that involve the president, ministers and sitting lawmakers in Operation Carwash, a sprawling corruption probe. He took over that case after his colleague Teori Zavascki died in a plane crash in January. He will also decide whether to unseal evidence such as the recording that could implicate Temer.
Lower House Speaker Rodrigo Maia, 46

The lower house speaker would replace Temer as interim president were he to fall, which makes him one of the most important men in Brazil at the moment. He took over last year after his predecessor, Cunha, was suspended -- and later jailed -- on allegations of corruption and obstructing Operation Carwash. He would be responsible for calling a new election and is also the official who accepts or rejects any impeachment requests against the president.
Finance Minister Henrique Meirelles, 71

Meirelles has been helping Temer push through Congress an economic-reform agenda that includes pension and labor overhauls. With a prominent career in the private and the public sectors, his name hasn't been mentioned in any corruption investigations so far.
Meirelles served as chairman of J&F Investimentos, the holding company that owns JBS, between 2012 and 2016, when the company received massive BNDES support. He was succeeded by Joesley Batista.
Before it's here, it's on the Bloomberg Terminal.
LEARN MORE