business
Bernanke Says Economy Nearing Capacity With Jobless Rate Low
By and
Former Fed chairman says U.S. economy is doing pretty well

U.S. unemployment 'is pretty much about as low as it can go'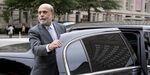 The U.S. economy should continue to deliver moderate growth but there is limited scope to pick up that pace with the jobless rate "about as low as it can go," former Federal Reserve Chairman Ben Bernanke said.
"We've got basically a 2 percent economy here and that means it doesn't take that much to knock you off track," Bernanke told attendees at the SkyBridge Alternatives Conference in Las Vegas on Wednesday. "We have already approached the limits of our capacity and unemployment is pretty much about as low as it can go, so we don't have that extra capacity to create growth."
Earlier this month, Bernanke told Bloomberg Television that the Trump administration's plans to cut personal tax rates appeared ill-timed and may do little to spur a higher rate of economic growth. He'd recommended instead concentrating on policies that might boost supply, rather than fuel demand.
Still, Bernanke, who helped steer the economy through the darkest days of the financial crisis, said Wednesday that he doesn't see the "wild excess" that's typically associated with problems in the financial sector that could spur a recession.
"From a cyclical perspective the economy's doing pretty well, it's the little engine that could," he said. But statistically speaking, there's a "pretty good chance" the economy will have some kind of downturn over the next four years, he said.
Slow Tightening
He expects the central bank will continue to raise interest rates "very slowly" and that the Fed will likely begin shrinking its $4.5 trillion balance sheet in 2018.
The Fed signaled earlier this month that it was on track to raise rates twice more in 2017 and viewed a weak start to the year as transitory after U.S. growth slackened to a 0.7 percent annualized pace in the first quarter.
Regarding the possible reappointment of Fed Chair Janet Yellen, Bernanke said that it's in President Donald Trump's best interest to do so. Otherwise, he must find "somebody who has a lot of credibility both with the public and the markets and will do the tough thing," Bernanke said. "It's important to have someone who's independent and respected and that's good for your governance in general."
Before it's here, it's on the Bloomberg Terminal.
LEARN MORE