U.K. Labour Party Vows to Raise $62 Billion by Taxing Rich
By and
Opposition to raise tax on income, corporations, transactions

Corbyn promises increased spending on health and education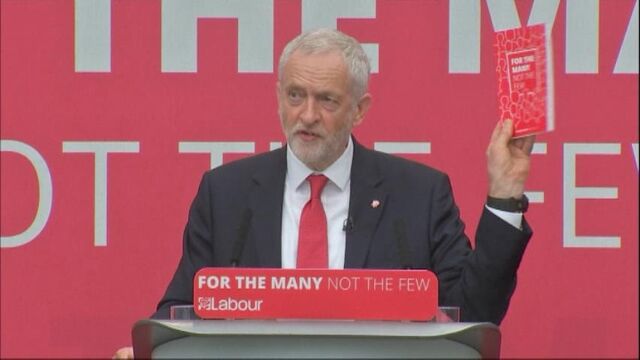 U.K. Labour Party leader Jeremy Corbyn pledged to raise 48.6 billion pounds ($62 billion) in taxes on businesses and the wealthy to pour more money into health, education and infrastructure.
The main opposition party's 128-page manifesto for the June 8 election promises 37 billion pounds of funding for the National Health Service, the abolition of university tuition fees and the establishment of a National Investment Bank to lend 250 billion pounds over the next decade.

There will be an increase in income taxes on those earning more than 80,000 pounds a year, and another one on earnings over 123,000 pounds; a hike by a third on corporation tax and a new levy on companies paying staff more than 330,000 pounds a year.
"For the last seven years our people have lived through a Britain run for the rich, the elite and the vested interest," Corbyn told a rally in Bradford, northern England, on Tuesday. Labour's program "will reverse our national priorities to put the interests of the many first."
On June 8, voters will be electing a new government almost a year after a slim majority of the country chose to pull Britain out of the European Union. Prime Minister Theresa May called the snap vote, citing the need to strengthen her hand for Brexit talks, and polls show her Conservatives handing Labour its worst defeat since at least 1983.
Still, Labour has enjoyed an uptick in support since a leaked draft of the manifesto last week, with voters rallying behind calls for higher income taxes on the top salaries and a promise to ban contracts that allow employers to hire staff with no guarantee of work.
If Corbyn succeeds in edging above 30 percent of the vote, he could make the case that he has matched or bettered the performance of his predecessor, Ed Miliband, and stay on as leader, something he has vowed to do regardless of the election result.
Free Education
A slew of nationalizations in the rail, water and energy industries capped Labour's pitch with Corbyn offering a"radical and responsible" plan to contrast with May's oft-repeated selling point of "strong and stable" leadership. The biggest cheers for Corbyn's speech at Bradford University came when he announced he'd abolish university tuition fees and take control of the railways.
"The Conservatives have been holding Britain back. Low investment, low wages, low growth," Corbyn said. "Labour will move Britain forward with ambitious plans to unlock the country's potential."
The party said it accepts last year's referendum result for Britain to withdraw from the EU but it would scrap May's negotiating position, prioritizing continued access to the single market and customs union.
Labour would immediately guarantee the rights of some 3 million EU citizens living in Britain, rather than making that contingent on a reciprocal guarantee for Britons abroad. It also ended its vacillation over immigration, accepting that the free movement of EU nationals to Britain would end after Brexit.
The party also promised increased regulation of taxi companies, including "national standards to guarantee safety and accessibility." It said these would be updated "to keep pace with technological change and ensuring a level playing field between operators," a reference to Uber Technologies Inc.
More than 24,000 words long, the document mentions taxation 38 times. Here are the key takeaways from Labour's program for the next five years:
Raise income tax rates for earnings over 80,000 pounds to 45 percent from 40 percent, and to 50 percent for earnings over 123,000 pounds
Slap 15 percent tax on homes bought with offshore trusts
Raise 1.5 billion pounds from value-added tax to pay for school fees
Discourage excessive pay packages by charging companies 2.5 percent for paying employees more than 330,000 pounds. This would raise 1.3 billion pounds
A "Robin Hood" tax to raise 4.7 billion pounds by extending a financial-transactions levy to cover derivatives and bonds. Financial firms would be charged the tax at 0.2 percent on each transaction, while everyone else would pay 0.5 percent, the rate currently charged on stocks
Retaining the "triple lock" that guarantees pensions will rise every year by whichever is highest: the rise in earnings, inflation, or 2.5 percent
Building 100,000 affordable homes per year for rent or sale
Putting the railways back under government control as and when franchises expire
Taking the energy transmission and distribution networks back into government control and setting up public gas and power utilities to compete with the private sector
Nationalizing water utilities
Promising to derive 60 percent of U.K. energy needs from low-carbon or renewable sources by 2030
Hiring 10,000 new police officers and 3,000 new firefighters
Considering introducing a land value tax as part of a review of local council tax and business rates
Establishing a National Education Service along the lines of the NHS, to provide free education from the cradle to the grave
— With assistance by Robert Hutton, Svenja O'Donnell, and Charlotte Ryan
Before it's here, it's on the Bloomberg Terminal.
LEARN MORE