Nikki Haley Tells Countries to Choose Between U.S., North Korea
By
UN Security Council met to debate latest missile launch

North Korea said latest missile launch shows improvements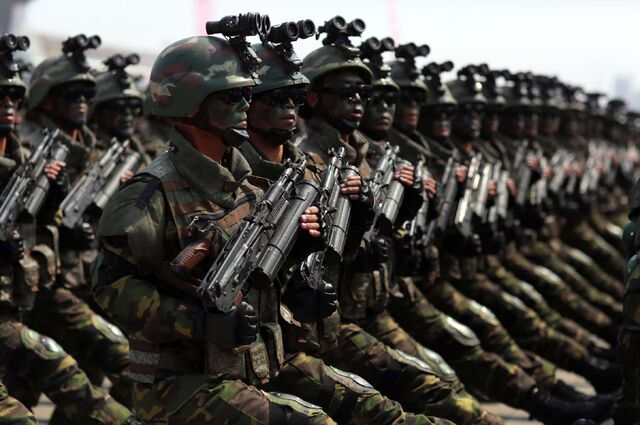 The U.S. ambassador to the United Nations urged other countries to do more to pressure North Korea over its weapons program, saying, "You either support North Korea or you support us, you are either with North Korea or not."
Ambassador Nikki Haley made the comments Tuesday, two days after Kim Jong Un's regime launched a rocket it said could carry a "large-size heavy nuclear warhead." The launch was the latest defiance of UN sanctions and provides an early challenge for South Korea's new leader, Moon Jae-in, who has vowed to engage with the regime to bring peace to the peninsula.
Flanked by ambassadors from Japan and South Korea, Haley reiterated the U.S. position that it is willing to engage in talks with Kim's regime if it abandons its nuclear aspirations. North Korea, however, has said it will prepare for more tests.
"We are willing to talk but not until a total stop of the nuclear process and of any tests there," Haley said.
Last night, the Security Council condemned North Korea's seventh missile test this year and vowed to take further measures including sanctions in response to Pyongyang's "highly destabilizing behavior."
Ambassadors from France and the U.K. have said they favor tougher sanctions against Pyongyang but a consensus hasn't been reached in the 15-member Security Council, where Russia, the U.S., U.K., China and France have veto power.
The Security Council needs to deal with North Korea's "dangerous and irresponsible obstinacy," said Francois Delattre, France's ambassador to the UN. "We cannot be in a 'wait and see' mode until the next provocation occurs. Our credibility and more importantly our collective security are directly at stake here."
Before it's here, it's on the Bloomberg Terminal.
LEARN MORE