politics
New York Manafort Investigations Have an Advantage: No Federal Meddling
By and
Manafort's real estate deals said to be under state scrutiny

Trump called Schneiderman a 'lightweight' and 'total failure'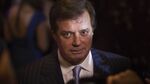 New York authorities have jumped into the fray investigating the activities of Paul Manafort, a onetime campaign manager for President Donald Trump. To some it may seem like piling on, but the state's efforts bear an important distinction from any parallel federal probes: Neither Trump nor the Justice Department nor the FBI has any control over them.
As Wall Street learned when then-New York Attorney General Eliot Spitzer took it on more than a decade ago, a state prosecutor can rattle an entire industry even without federal cooperation. 
"We've seen this movie before," Spitzer said. "When the feds fail to enforce the law, creative state prosecutors can fill the void. It is a critical and necessary protection against lawlessness."
As Democrats fumed over Trump's firing of the head of the FBI, news surfaced that New York Attorney General Eric Schneiderman and Manhattan District Attorney Cyrus R. Vance Jr. had begun preliminary investigations of Manafort's real estate transactions. Representatives for Schneiderman and Vance declined to comment. Jason Maloni, a spokesman for Manafort, declined to comment, as did the White House.
Mortgage Records
NBC News reported late Tuesday that federal investigators have subpoenaed records related to a $3.5 million mortgage Manafort took out on his home in the Hamptons, in New York, just after leaving the Trump campaign, citing a person familiar with the matter who wasn't identified. Maloni, Manafort's spokesman, told NBC that Manafort hadn't been contacted by authorities other than the U.S. Congress and officials responsible for the Foreign Agents Registration Act.
Separately, federal authorities are investigating the Russia-related and campaign activities of several Trump associates, including Manafort, who resigned as campaign manager last August amid questions about his ties to a pro-Russia political party in Ukraine. Energy consultant Carter Page and longtime Republican operative Roger Stone are among them, according to two officials.
Cried Foul
Because of those inquiries, Democrats cried foul over Trump's abrupt firing of FBI director James Comey last week. Many saw it as an attempt to derail the agency's investigation into the Trump campaign's potential ties to Russia and possible collusion to influence the election.
Unlike Comey, the state officials do not have to worry about job security. Schneiderman and Vance have posts established under state law.
"No one can remove an honest district attorney except the electorate," said John Moscow, a former deputy to Manhattan District Attorney Robert Morgenthau, who helped build the landmark money-laundering case against Bank of Credit and Commerce International (BCCI) in 1991. "The office is independent, and the legal tools exist to prosecute international economic crime, as we have done in the past."
Schneiderman was elected in 2010. Not even Governor Andrew Cuomo can fire him. He has a tumultuous history with the president. Trump has mocked him on Twitter for years, calling him a "lightweight" and a "total failure."
Nonprofit Oversight
But the New York attorney general has been examining his enterprises for some time. Among the office's roles is oversight of nonprofit groups. Schneiderman is investigating whether the Trump Foundation violated laws related to charities. The probe started after the foundation told the Internal Revenue Service it had broken rules preventing leaders of nonprofit organizations from using a charity's money to benefit "disqualified" people, including themselves. In December, Trump said he'd shut down the foundation to resolve concerns about possible ethics conflicts. The probe is continuing.
Schneiderman's office also filed a fraud lawsuit against Trump's for-profit real estate school, Trump University, which the president settled for $25 million.
The office has recently added some firepower, a former prosecutor in the office of the U.S. Attorney for the Southern District of New York, Preet Bharara, whom Trump fired. The lawyer, Howard Master, is "one of the absolute superstar investigators and casemakers," Bharara wrote in a tweet in March.
There is a powerful legal arsenal at the investigators' disposal, including the Martin Act, which gives them broad powers to fight financial fraud, and New York state's own money-laundering laws, which allow prosecutors to look at the tax implications of suspicious transfers.
Mortgage Questions
Manafort's real estate transactions have drawn scrutiny partly because he paid cash for many of the properties only to take out large loans later, sometimes for more than their value and in at least one instance from a Trump associate.
In January, for instance, Manafort received $6.5 million in two loans for a Brooklyn brownstone from the Federal Savings Bank, a small Chicago-based lender run by a Trump economic adviser, Stephen Calk. Trump named Calk to his campaign's economic advisory council in August while Manafort was still campaign manager.
The Federal Savings Bank markets itself as a veteran-owned lender that focuses on low-to-moderate income borrowers and specializes in mortgages insured by the U.S. Department of Veterans Affairs, according to its website.
Manafort's family finances had been showing signs of stress in the period leading up to the loans, which totaled more than twice the original purchase price of the brownstone.
The lender at the time, Genesis Capital, started a foreclosure on the property, filings at Kings County Supreme Court show. Manafort and Genesis Capital reached an agreement to halt the foreclosure on the day after he got the new loans from Calk's institution in January.
'Investigator Curious'
Manafort, who also owns a condo on the 43rd floor of Trump Tower in Manhattan, had construction and land development loans from the Chicago-based bank totaling $11 million at the end of 2016. 
The refinancing of the Brooklyn property is one of several transactions that have attracted attention. The Wall Street Journal reported that Manafort and his immediate family members had spent more than $16 million on at least six properties across the U.S. since the mid-2000s, and he had borrowed roughly the same amount from Calk's bank since the election.
New York's real estate industry is well known to law enforcement as a source of money-laundering activity, especially involving foreign buyers, said Samuel Buell, a former federal prosecutor and now a professor at Duke University School of Law. While it's unclear which of Manafort's real-estate transactions are being examined, Buell described some potential avenues including possible flows from foreign hands.
The all-cash transactions for properties and subsequent mortgages "are all things that would make an investigator curious about where the funds came from," Buell said.
Russian Ties
In other investigations, Manafort is under scrutiny for his Russian ties not only by the FBI, but by several congressional committees.
At a March hearing, then FBI Director Comey repeatedly declined to respond to Congressmen's queries on Manafort, such as whether he had registered as a foreign agent for Ukraine. In past years, Manafort provided key campaign strategy to pro-Russian leader Viktor Yanukovych in Ukraine. In a statement to Bloomberg in February, Manafort said he "never had any connection to Putin or the Russian government -- either directly or indirectly -- before during or after the campaign."
The overlap of state and federal prosecutors with jurisdiction in New York has led to turf battles over juicy white-collar cases over the years.
The public benefits from the competition, Moscow said. During his three decades at the district attorney's office, Moscow led a number of complex criminal investigations in addition to BCCI, including the theft of more than $100 million by top management at Tyco International. "If you have a bunch of dogs hunting for bones, " he said, "having more of them is bad for the bones."
(
Updates with NBC report of federal subpoena in fifth paragraph.
)
Before it's here, it's on the Bloomberg Terminal.
LEARN MORE