McConnell Won't Guarantee All Tax Cuts Stay in Health-Care Bill
By and
Senate leader says health measure will be difficult to pass

Sees 'urgency' to complete a deal given market turmoil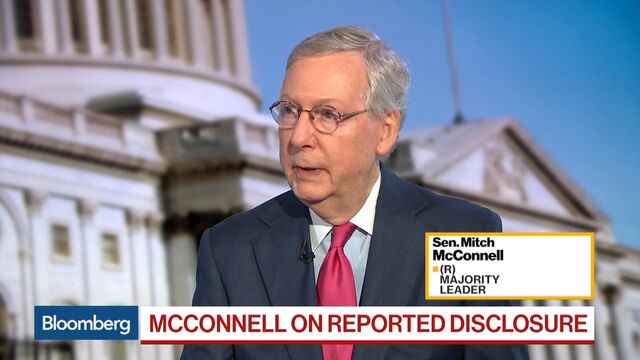 Passing an Obamacare replacement won't be any easier in the Senate than in the House, Senate Majority Leader Mitch McConnell said Tuesday while refusing to guarantee that his chamber's plan will keep all of the House bill's tax cuts.
"This is a really tough issue," the Kentucky Republican said in an interview with Bloomberg News. "You all covered extensively the difficulty of getting a bill out of the House. It won't be any easier getting it out of the Senate."
He acknowledged concerns by moderate Republican Susan Collins of Maine and other senators who say the House bill's tax cuts are too large, but McConnell said he didn't want to discuss specific approaches as Republicans seek consensus.
"My goal is to try to get to 50 votes for something that repeals and replaces Obamacare," the Kentucky Republican said. Republicans control the Senate 52-48, and Vice President Mike Pence can cast a tiebreaker vote.
Every Republican senator will have a voice in crafting the Senate bill during party lunches, he said.
"We're devoting almost all of our time, Tuesday, Wednesday and Thursday of every week to the discussion about how to go forward. I'm not going to handicap what might be in a bill that could get to 50 votes," McConnell said. A 13-member working group is also working on a bill.
"What I said in the first meeting of the working group is if you're not here to get to yes, you're in the wrong meeting," he said.
$1 Trillion Tax Cut


The House Republican measure would repeal a key piece of former President Barack Obama's Affordable Care Act -- the requirement that individuals get health insurance and that most employers provide it to their workers. It would wind down an expansion of Medicaid insurance for the poor and eliminate almost $1 trillion in taxes on the wealthy, insurers, drugmakers and others used to fund the law. The House narrowly passed the bill on May 4.
McConnell said there's some urgency for a deal given the "disaster" in the private insurance market.
"I'm not going to put a precise date on it, but there is a sense of urgency about it because of what's happening with the status quo," he said. "The exchanges are cratering, insurance companies are pulling out."
Several Republican senators, led by Collins and Bill Cassidy of Louisiana, have crafted a plan that would keep most of the Affordable Care Act's taxes in place as part of an alternative they hope will expand coverage and lower premiums.
Collins and Cassidy held a bipartisan meeting Monday night with nine other senators to discuss the potential for a compromise.
"It was to discuss whether or not there is a bipartisan path forward on health care," Collins said afterward. "I don't want to overstate it, but there were some interesting ideas that were advanced tonight."
Before it's here, it's on the Bloomberg Terminal.
LEARN MORE