Dimon Says He'll Look Into Concerns About Private Prison Financing
By and
JPMorgan CEO says he might not agree with companies' critics

Prison firms have gained on optimism Trump would support them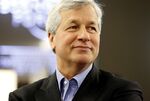 Jamie Dimon said JPMorgan Chase & Co. will look into investors' concerns about whether the bank should continue to help finance private prisons.
The chief executive officer came under fire Tuesday at the company's annual meeting for the bank's role in financing debt for companies including the Geo Group Inc. and CoreCivic Inc., which operate privately-owned prisons and immigrant detention centers. Some investors and protesters urged JPMorgan to end its relationship with such firms, arguing that they make money off human suffering and violate immigrants' rights.
"We will look into the funding of these prisons you're talking about," Dimon said at the meeting in Wilmington, Delaware. "I'm not sure we completely agree with you."
Geo Group and CoreCivic have gained since the U.S. presidential election on expectations the Trump administration's law-and-order stance and immigration policies would boost business, with Geo increasing 108 percent and CoreCivic climbing 140 percent since Nov. 8. In February, Attorney General Jeff Sessions rescinded an Obama administration order directing the Federal Bureau of Prisons to phase out its use of private prisons.
Helping Trump
Dimon, 61, was also criticized for his role on President Trump's Strategic and Policy Forum. He rejected their calls to leave the group, saying simply "no." The CEO said while he doesn't agree with all of the president's policies, he still wants to help him lead the country.
"He's the pilot flying our airplane," Dimon said. "We're trying to help. I would try to help any president of the United States because I'm a patriot."
During the meeting JPMorgan shareholders also re-elected all of the bank's directors, with each receiving at least 95 percent of the votes, according to a preliminary tally from the company. Roughly 92 percent of voters approved the lender's executive-compensation plan, the same level as last year. And they rejected all six shareholder proposals, the totals show.
Quotes from this Article
Before it's here, it's on the Bloomberg Terminal.
LEARN MORE