One of Tesla's Biggest Bulls Just Downgraded the Stock
By
Alphabet, Apple plotting 'assault' of shared, autonomous EVs

'The balance sheet is already stretched,' BI analyst writes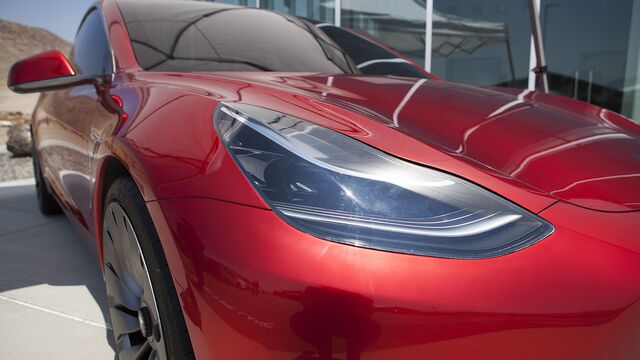 Tesla Inc. lost a buy rating from one of its longtime bulls, with a Morgan Stanley analyst boosting his projection for how much cash the carmaker will burn through as more prosperous rivals encroach on its business.
Adam Jonas, Morgan Stanley's top auto analyst, has been one of the biggest advocates for Tesla stock, envisioning offerings of a ride-for-hire service that could double the value of the company. He now sees operating losses continuing through next year and estimates the company will consume $3.1 billion of cash this year, compared with an earlier estimate of $2.3 billion.
"We expect much larger and more well capitalized competitors to unveil strategies that directly address sustainable transport and mobility," Jonas wrote in a note to clients. The expansion by Alphabet Inc.'s Waymo of its self-driving Chrysler Pacifica minivan fleet and Apple Inc.'s plans to test autonomous cars in California amount to "an assault" of the market by large tech firms, he said.

Tesla dropped as much as 3.8 percent after jumping 52 percent this year through Friday. The shares were down 2.6 percent to $316.46 as of 12:58 p.m. in New York trading, the biggest decline in the 29-member Bloomberg World Auto Manufacturers Index.
Ivan Feinseth, chief investment officer at Tigress Financial Partners LLC, took issue with the assessment, noting that traditional automakers such as General Motors Co. and Ford Motor Co. remain more immediate competitors for Tesla than the likes of Apple.
New Competitors?
"I really don't understand the rating change based on competition from Apple and Amazon," said Feinseth, who says he isn't invested in Tesla. "I don't think that Apple will be best served making a car, though they have the money to make anything."
Technology and Car Companies Are More Intertwined Than Ever
Tesla burned through $622.4 million in cash during the first three months of the year, about half the amount raised in equity and debt offerings in March. The company has said it expects to roughly triple capital expenditures in the second quarter, boosting first-half spending to more than $2 billion before production of the cheaper Model 3 sedan begins.
"Tesla may need to raise more capital to pull off a 2017 launch of the mass-market Model 3 and to fund battery, solar and other investments," Kevin Tynan, a Bloomberg Intelligence analyst, wrote Monday. "The balance sheet is already stretched and Tesla's shares could be significantly diluted if stock is issued instead of debt."
— With assistance by Esha Dey
Before it's here, it's on the Bloomberg Terminal.
LEARN MORE