markets
Saudi Arabia, Russia Favor Extending Oil Cuts Through Next March
Bloomberg News
Supply deal could be prolonged at already agreed-upon volumes

Al-Falih says stockpiles won't reach desired level by end-June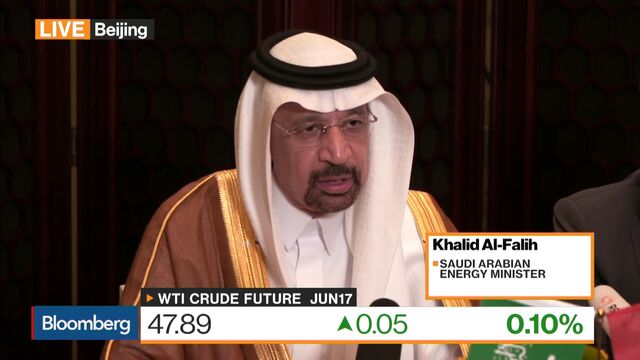 Saudi Arabia and Russia said they favor prolonging oil-output cuts by global producers through the first quarter of 2018, setting a firmer timeframe for a likely extension of the curbs. Crude prices jumped.
Longer cuts at already agreed-upon volumes are needed to reduce global inventories to the five-year average, the energy ministers of the world's biggest crude producers said at a joint press briefing in Beijing on Monday. They will present their position to other countries ahead of a meeting between OPEC and other producing nations later this month in Vienna.
Russia and Saudi Arabia, the largest of the 24 producers that agreed to cut output for six months starting in January, are reaffirming their commitment to the deal amid growing doubts about its effectiveness. Surging U.S. production has raised concern that the Organization of Petroleum Exporting Countries and its partners are failing to reduce an oversupply. Oil has surrendered about half its gains since their accord late last year.
"The agreement needs to be extended as we will not reach the desired inventory level by end of June," Saudi Arabia's Khalid Al-Falih said during the event with Russia's Alexander Novak. "Therefore, we came to the conclusion that ending will probably be better by the end of first quarter 2018."
Oil futures rose after the ministers spoke. West Texas Intermediate climbed as much as 3.4 percent to $49.45 a barrel on the New York Mercantile Exchange, while global benchmark Brent increased as much as 3.3 percent to $52.52 on ICE Futures Europe. Both remain more than 50 percent below their 2014 peak.
"It's right that the decision was made not for two, three, four months but for nine months," Russian President Vladimir Putin said later Monday. "That is the most important condition for stability," he said at a separate press conference in Beijing. There's a "good chance" that Russia, a non-OPEC nation, will extend its cooperation with the organization because Saudi Arabia wants price stability and is complying with its obligations in the deal, he said.

OPEC members agreed in November to cut 1.2 million barrels a day of oil production. Several non-members, including Russia, agreed in December to contribute a combined 600,000 barrels a day of output reductions.
Amid the cutbacks, production in the U.S., which isn't part of the agreement, has risen to the highest level since August 2015. But American crude inventories are finally showing some signs of shrinking, falling for the past five weeks from record levels at the end of March.
Kazakhstan, the biggest producer in the former Soviet Union after Russia, isn't ready to join an extended accord automatically, its Energy Minister Kanat Bozumbayev said Monday, according to Interfax. The Central Asian nation will discuss its level of participation at the Vienna gatherings on May 24 and 25, the news service reported, citing the minister.
Read Gadfly's take on what OPEC needs to do to reach its target.
"Preliminary consultations show that everybody is committed" to the output agreement and no nation is willing to quit, Russia's Novak said. The country's Energy Ministry has held initial discussions with Russian companies on the matter, he said.
While the curbs by producers are working, "we are not where we want to be" in bringing global inventories down "gently" below the five-year average, Al-Falih said. "We have, before coming to this announcement today, reached out to many of our colleagues within and outside OPEC, and I think there is general consensus that this is the right approach."
The deliberations come as two OPEC members exempt from the cuts boost output. Libya's crude production has risen to more than 800,000 barrels a day, the most since 2014, while Nigeria's 200,000-barrel-a-day Forcados pipeline is ready to export again after almost continuous halts since February 2016. It's unclear whether the countries would still be exempt if the deal is prolonged.
— With assistance by Elena Mazneva, Sarah Chen, Dan Murtaugh, Haze Fan, Tom Mackenzie, Sharon Cho, and Andrey Biryukov
Before it's here, it's on the Bloomberg Terminal.
LEARN MORE