technology
Southern to Take Lead From Westinghouse on Nuclear Project
By and
Westinghouse bankruptcy threw fate of reactors into question

Toshiba working to provide certainty to banks on exposure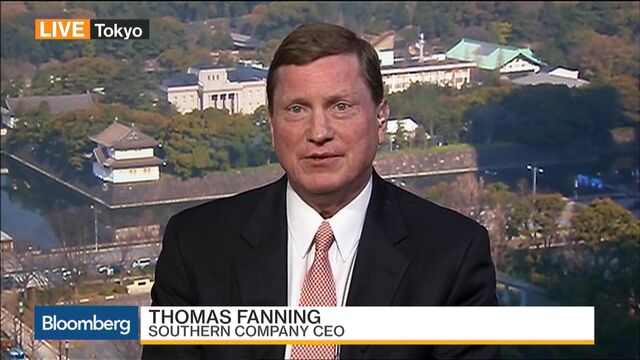 Utility owner Southern Co. agreed to take the lead from Toshiba Corp.'s bankrupt Westinghouse Electric Co. unit on building two nuclear reactors at its Vogtle power plant in Georgia as soon as next month.
The Atlanta-based utility owner also agreed to extend to June 3 an interim contract with Westinghouse while the companies finalize the new service pact, Southern said in a statement late Friday. Toshiba would remain on the hook for about $3.6 billion in guarantees for the project that may be paid over at least three years, according to a person with knowledge of the discussions, asking not to be identified because the information isn't public.
Westinghouse's bankruptcy in March threw into question the fate of four nuclear reactors once seen as ushering in a new wave of nuclear generation in the U.S. -- the two at Southern's Vogtle plant and another two being built at Scana Corp.'s V.C. Summer station in South Carolina. The move signals Southern's intent to see the project through, and marks a step forward for Toshiba, which has sought to regain access to lines of credit by providing collateral and more certainty regarding its exposure to Westinghouse.
The service agreement "allows for the transition of project management from Westinghouse" to Southern once their current engineering and construction contract is rejected in Westinghouse's bankruptcy case, according to the statement. "During this time, work will continue at the site and an orderly transition of project management will begin."
Southern Chief Executive Officer Thomas Fanning said earlier this month that the company could take over work at Vogtle so long as Toshiba provided $3.7 billion as promised. Friday's deal also depends in part on whether Scana moves forward with the two reactors at the V.C. Summer plant, so the utilities can pool resources for engineering and source materials, the person with knowledge of the discussions said.

Scana and Westinghouse have an agreement to review the V.C. Summer nuclear project until June 26, though Toshiba is expecting Scana to decide on whether to move forward with the reactors closer to the end of May, if not sooner, the person said. Scana didn't immediately respond to requests for comment.
"We are supportive of the VC Summer project and want it to succeed, as well as the Vogtle expansion, for the future of nuclear energy in the U.S.," Southern spokesman Jacob Hawkins said Saturday.
Southern rose 0.2 percent to $50.012 as of 11:30 a.m. in New York. The stock is up 1.7 percent this year. Scana gained 1.1 percent.
"Southern is carefully managing negotiations with both Westinghouse and its parent company Toshiba in order to maintain pressure on construction and prevent schedule/costs slip even further," analysts at Guggenheim Securities including Shahriar Pourreza wrote in a note on Monday.
Friday's agreement marks a turnaround from March when, less than 24 hours after Westinghouse filed for bankruptcy, Southern's Fanning said in a Bloomberg Television interview that he flew to Tokyo just to "look the CEO of Toshiba in the eye" and remind him that his company had a "moral commitment" to getting the Vogtle project done. Both Fanning and Georgia regulators have appealed to the Trump administration for help in finishing the project.
Meanwhile, Westinghouse has laid out plans to ditch the money-losing business of building reactors and instead focus on servicing and decommissioning work. It set up agreements with both Southern and Scana to give them more time to decide whether they wanted to continue construction.
The agreement in principle with Southern was seen by Toshiba as a key step in offering its banks more certainty and restoring access to liquidity.
In Westinghouse's bankruptcy, the most significant debts are held by Apollo Global Management LLC, which financed an $800 million operating loan, and parent Toshiba. The Chapter 11 case has moved slowly, with Westinghouse recently asking for a two-week delay until May 26 to file a full schedule of its assets and debts.
In a filing on Monday, Southern said it's continuing negotiations with Toshiba regarding the guarantee. However, it cautioned that "substantial risk" remains over the ability to fully collect due to Toshiba's financial situation.
— With assistance by Yuji Nakamura
(
Updates with share prices in eighth paragraph, analyst comment in ninth.
)
Before it's here, it's on the Bloomberg Terminal.
LEARN MORE