Padoan Says Extent of Bad Loans at Italian Banks Overestimated
By
NPLs in the tens -- not hundreds -- of billion euros

Italian finance minister comments in Bloomberg TV interview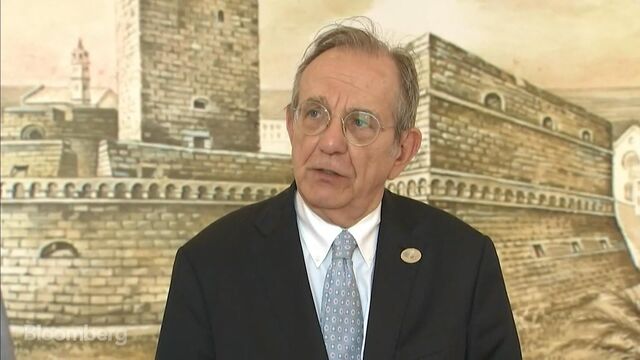 The numbers circulating about bad loans at Italian banks are too high, Finance Minister Pier Carlo Padoan said.
"The numbers that have been floating around" amount to several hundred billion euros -- this "grossly overestimates the impact, I would say that now we are talking about tens of billions," Padoan said on Saturday in a Bloomberg Television interview in Bari, Italy, where his nation was hosting a meeting of Group of Seven finance chiefs and central bankers.
Italy approved a law to plow as much as 20 billion euros ($22 billion) into troubled lenders as part of its efforts to revamp its banking industry and break a slump in lending. With the mountain of bad loans estimated as high as 360 billion euros, the government is seeking to avoid a resolution for the weakest lenders that would impose heavy losses on savers and retail investors.
While Italy's banks weren't on the G-7's agenda, Padoan still managed to spread the word to his colleagues.
"After every chat with Padoan, I'm a little bit less worried" about Italy's banks, German Finance Minister Wolfgang Schaeuble told reporters in Bari.
— With assistance by Birgit Jennen, Flavia Rotondi, Elena Gergen-Constantine, and David Goodman
Before it's here, it's on the Bloomberg Terminal.
LEARN MORE