North Korea Fires Missile After South Korea Gets New Leader
By
South Korean president Moon has vowed to engage with regime

Military in Seoul says ballistic missile flew 700 kilometers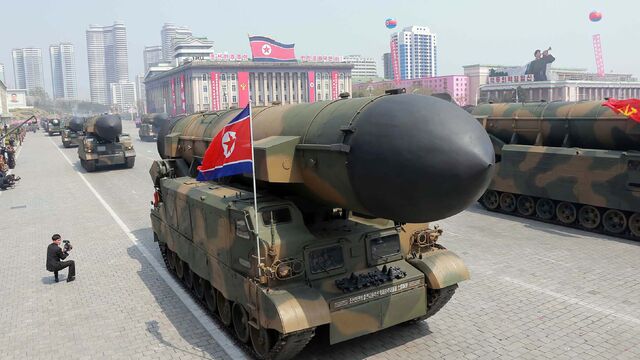 North Korea fired a ballistic missile early Sunday, its seventh such test this year, just days after South Korea elected a president who vowed to engage with Kim Jong Un's regime.
The missile was launched at 5:27 a.m. from the western city of Kusong, northwest of the capital Pyongyang, and flew about 700 kilometers (435 miles), South Korea's Joint Chiefs of Staff said in text messages.
U.S. Pacific Command said the missile, which fell into the Sea of Japan, was not consistent with an intercontinental ballistic missile and did not pose a threat to North America. An intermediate-range missile that flew 500 kilometers (310 miles) was fired from the same site in February.
The launch is an early test for South Korean President Moon Jae-in, who was elected on May 10 saying he would visit Pyongyang under the "right circumstances" and favors a combination of sanctions and talks to bring a halt to Kim's nuclear weapons program.
Moon convened a national security council meeting where he said the launch was a challenge for global security, according to spokesman Yoon Young-chan. South Korea remains open to the possibility of talks but will deal sternly with North Korea's provocations, Yoon quoted Moon as saying.
Japanese Prime Minister Shinzo Abe told reporters the missile test was "a serious threat to Japan." The projectile probably fell outside Japan's exclusive economic zone, Chief Cabinet Secretary Yoshihide Suga said at a briefing.
The launch defies United Nations sanctions and U.S. President Donald Trump's warnings that military action is an option to prevent Kim's regime from developing an ICBM with the capacity to carry a nuclear warhead to North America. Trump has lauded efforts by China -- North Korea's main ally and economic lifeline -- to rein in its neighbor.
Read more on Trump's grim military options against North Korea
The timing of North Korea's move suggested it was a signal to the new government in Seoul, according to Ralph Cossa, president of the Pacific Forum CSIS policy research group in Honolulu. "My best guess is that it was aimed at sending a message to the new South Korean leadership that it will need to deal with Pyongyang on North Korea's terms, not Moon's."
The launch came a day after Choe Son Hui, director general for North American affairs at North Korea's foreign ministry, said the regime would be willing to talk to the U.S. if conditions were right, according to South Korea's Yonhap News. That follows recent comments by Trump that he would be "honored" to meet Kim under the right conditions.
'State of Paranoia'
Still, each side has stuck for years to its stance on what those "conditions" would be, making talks almost impossible: The U.S. says it will only agree to a dialogue if North Korea is willing to give up its nuclear weapons program, while Pyongyang says that will never happen and it will only hold discussions if there are no strings attached.
Nikki Haley, the U.S. ambassador to the UN, said the latest test shows Kim is "in a state of paranoia. He's incredibly concerned about anything and everything around him."
The U.S. is going to "continue to tighten the screws" on Pyongyang, "whether it's sanctions, whether it's press statements, anything that we have to do," Haley said on ABC's "This Week' on Sunday. "There's a lot of sanctions left that we can start to do."
Asked whether the missile firing may trigger more sanctions, Commerce Secretary Wilbur Ross said he doesn't know what action Trump might take. But he noted the White House statement indicating that the missile landed closer to Russia, with whom North Korea shares a border, than Japan.
"Whether that will give the Russians some interest in doing something, I don't know," Ross said on the Fox News Channel's "Sunday Morning Futures."
The White House statement late Saturday said "the President cannot imagine that Russia is pleased" about the test. Haley said Russia is "concerned" about North Korea.
Kim has tested dozens of projectiles and three nuclear weapons since he came to power after the death of his father, Kim Jong Il, in 2011. He claimed in January to be in the final stages of preparations to test-fire an ICBM, and has launched several intermediate-range projectiles with varying degrees of success.
— With assistance by Sam Kim
Before it's here, it's on the Bloomberg Terminal.
LEARN MORE