America First Divides G-7 Even as Ministers Warm to Mnuchin
By and
Padoan says relations with Treasury Secretary are improving

Communique after Bari meeting keeps toned-down trade language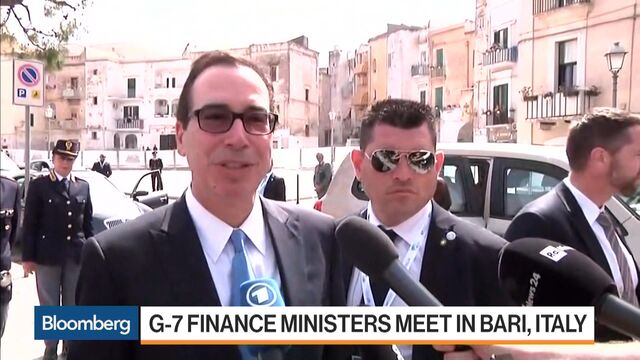 Finance ministers signaled a truce in their trade quarrel with Donald Trump's administration as his Treasury Secretary said the Group of Seven is starting to understand where he's coming from.
Steven Mnuchin's third encounter with the international community, at a meeting of finance chiefs in Italy, deepened ties even as his government's "America First" policy continues to challenge the global economic consensus. A statement in Bari mirrored watered-down trade language from the Group of 20 two months ago, but ministers afterwards suggested an increasingly pragmatic tone to the talks after a stilted start.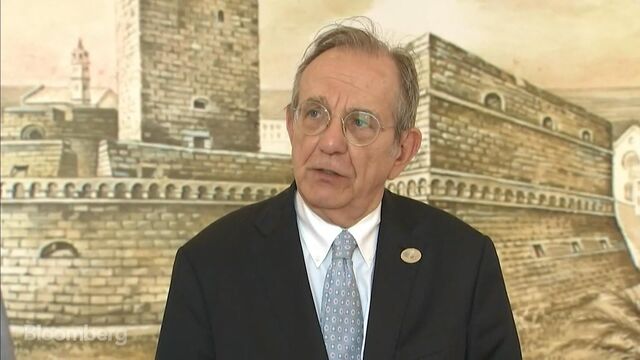 "Of course we recognize that there are different starting points, different views in different countries," the chair of the talks, Italian Finance Minister Pier Carlo Padoan, told Bloomberg Television, adding that "this is not an obstacle to reaching a common perspective." Earlier, he told reporters that "the relationship with Mnuchin improves every time we see each other."
As with his previous outings in Germany and Washington, Mnuchin is fronting up an economic agenda that leaves some in the international community baffled and frustrated. At both those G-20 gatherings, he refused to sign up to a longstanding explicit shunning of protectionism. While holding firm on that despite attempts to persuade him to give ground, Mnuchin said his colleagues were gaining a better understanding of what President Trump's policies mean for the U.S. and the rest of the world.
More Comfortable
"People are much more comfortable today now that they've had the opportunity to spend time with me and listen to the president and listen to the economic message on what the economic agenda is, and that's about creating growth in the United States," he told reporters after the meeting. "We don't want to be protectionist but we reserve our right to be protectionist to the extent that we believe trade is not free and fair."
For a QuickTake Explainer on free trade, click here.
The final statement from the Bari meeting included a reference to "working to strengthen the contribution of trade to our economies," a word-for-word reproduction from March's G-20 in Baden-Baden, Germany.
Mnuchin's brand of diplomacy had already showed signs of evolution between that meeting and one in Washington a month later, with his position that trade be "fair" rather than "free" crystallizing into a call for "reciprocal free trade."

"When he came to Baden-Baden, his comments were tentative -- probably because it was his first international meeting and it was soon after he started," Japan's Finance Minister Taro Aso told reporters. "This time, his comments were very timely and he explained his points well. Compared with a month or two months ago, the stiffness is gone."
Mnuchin's presence was overshadowed by a political firestorm in Washington after Trump fired FBI chief James Comey, whose agency was investigating links between the president's 2016 election campaign and the Russian government.
China Deal
The meeting also coincided with news of a significant foray by the Trump administration into global commerce. The secretary arrived in Bari saying he was "excited" about U.S. trade policies after the announcement of a deal to boost exports of gas and beef to China, an agreement that was also noted by German Finance Minister Wolfgang Schaeuble.
"The U.S. administration is quite new and the cooperation is improving," Schaeuble said. "The U.S. has just concluded an agreement with China. I am quite confident that the development will continue, that the U.S. administration will engage more strongly in this process."
Even with the apparent thaw in relations, the U.S. still stands apart from the rest of G-7 on trade, climate change and other issues. That divergence augurs for potential disagreements when the nations' leaders gather in Sicily later this month -- an event which marks Trump's first major international summit as U.S. President.
"On some very important points, we see there is a desire for continuity, a desire to work with the G-7 and G-20 partners," French Finance Minister Michel Sapin said in a Bloomberg Television interview. "There are, however, some points on which the American administration doesn't, at this point in time, feel comfortable expressing a sufficiently well thought-out opinion. These are points on which they continue to reflect."


— With assistance by Lorenzo Totaro, Matthew Miller, Elena Gergen-Constantine, Flavia Rotondi, Birgit Jennen, Toru Fujioka, Alessandro Speciale, Saleha Mohsin, and Alessandra Migliaccio
Before it's here, it's on the Bloomberg Terminal.
LEARN MORE