technology
Waymo-Uber Judge Rules Robocar Fight Won't Go to Arbitration
Joel Rosenblatt and Pamela MacLean
Ride-hailing giant sought to move case behind closed doors

Suit stays with judge who's said Waymo has strong claims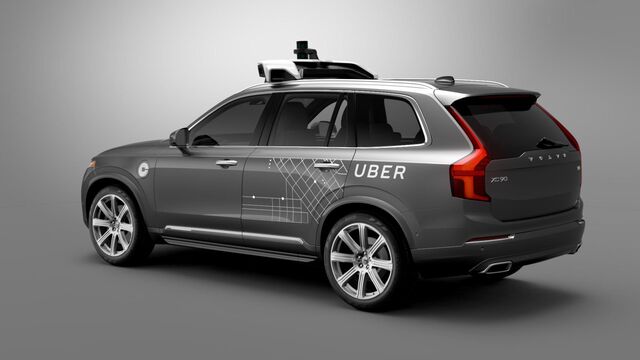 A federal judge ruled Thursday that Waymo's driverless-car trade secrets lawsuit against Uber Technologies Inc. will stay in open court, rejecting the ride-hailing giant's request to push it into closed-door arbitration.
The lawsuit centers on engineer Anthony Levandowski, who Waymo claims downloaded thousands of confidential files before he left the company to launch his own self-driving startup, Otto, that was acquired by Uber for $680 million.
The ruling leaves Uber on course for an October trial in open court over claims that it gained an unfair advantage by ripping off crucial technology in the race to market autonomous cars that both companies believe will be worth hundreds of billions or even trillions of dollars a year.
The judge's order comes two weeks after Levandowski stepped down from his post overseeing self-driving car technology to a lesser role on the team, saying he and Chief Executive Officer Travis Kalanick decided he shouldn't be involved with the laser technology at issue in the lawsuit.
U.S. District Judge William Alsup in San Francisco noted at the very start of his ruling Thursday that Uber was trying to steer the lawsuit into arbitration despite having "no agreement with anyone to arbitrate the case."
Intellectual Property
In arbitration, the companies would have been able to choose an intellectual property expert to referee their dispute. Arbitrators, who are usually lawyers or retired judges, are required to keep proceedings confidential, including final outcomes, but parties can speak publicly about awards unless they've agreed to keep quiet, according to Charlotte Garden, an associate law professor at Seattle University.
Arbitration would have benefited Uber primarily by keeping the case out of the public spotlight and also by limiting the scope of information sharing, or discovery.
"Plaintiffs generally have greater need to dig up information to prove their cases," Garden said.
Uber argued that even though Levandowski isn't named as a defendant in the lawsuit, which was filed in February against Uber and Otto, the dispute doesn't belong in court because the engineer's contract with Waymo contained a broad arbitration clause.
Uber's Lawyer
Hamish P.M. Hume, a lawyer for Uber, told the judge at an April 27 hearing that if Levandowski had been added as a defendant, the case would certainly go to arbitration. Uber argued the only reason he wasn't included in the suit is that Waymo was trying to intentionally dodge arbitration.
Waymo said it never consented to arbitrate the dispute with Uber and contended it couldn't be coerced into an informal resolution process just because the trade secrets it's fighting to protect happen to have come from former Waymo employees.
The claims in Waymo's lawsuit "never reference" Levandowski's employment contract, the company's lawyer, Charles Verhoeven, told the judge at the hearing. "The test is if you take out the contract at issue, do you still have a claim? The answer here is indisputably yes."
Waymo separately initiated arbitration proceedings against Levandowski in October, claiming he breached the confidentiality provisions of his contract and improperly used the company's private information to recruit colleagues for a competing driverless-car enterprise.
Uber told Alsup that it wanted the same "distinguished" panel of arbitrators handling those proceedings to decide the merits of Waymo's allegations against Uber that Levandowski downloaded and stole 14,000 Waymo files.
The case is Waymo LLC v. Uber Technologies Inc., 17-00939, U.S. District Court, Northern District of California (San Francisco).
(
Updates with excerpt from judge's ruling in fifth paragraph.
)
Before it's here, it's on the Bloomberg Terminal.
LEARN MORE