Warren Buffett 'Blew It': What We Learned This Week
Five stories that shaped the week, and the big ideas behind them.
By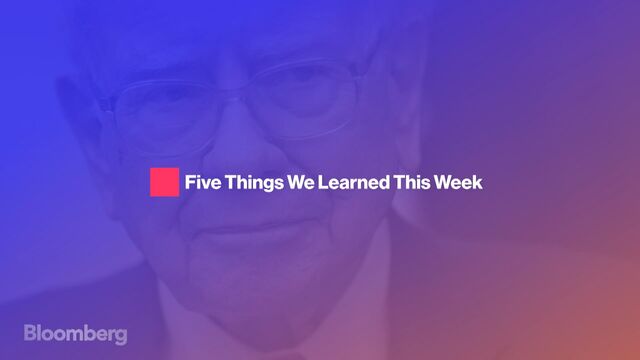 1) Buffett's Costly Mistake
People flock to Omaha, Neb., for Warren Buffett's annual shareholder meeting in search of ideas. The big lesson this year? Buffett seems frustrated. The Berkshire Hathaway Inc. chief executive officer spoke at length about his failure to pounce on opportunities in tech stocks, the challenge of finding big deals, and his frustration with a cash pile that's approaching $100 billion, Noah Buhayar and Katherine Chiglinsky wrote. With thousands watching live (and many more streaming video online), Buffett and Vice Chairman Charles Munger took questions for five hours. Buffett said that, in hindsight, he could have been quicker to understand Google—its founders consulted him around the time they were taking the company public. "I had plenty of ways to ask questions, or anything of the sort, and educate myself," Buffett said. "But I blew it."
2) Think Before You Send That Email
The old warning still applies: Never put in an email something you wouldn't want to see on the internet. A five-word message to a rival banker was enough to cost former Citigroup Inc. trader David Madaras his job, Patrick Gower reported. Citigroup's Timothy Gately disclosed the message on the first day of Madaras's employment lawsuit in London Tuesday. The executive said the April 2011 chat constituted gross misconduct, and firing Madaras was the only appropriate sanction. "he's a seller/fking a," Madaras wrote to a rival trader who had just disclosed the identity of a client, Gately said in a filing prepared ahead of the hearing. That chatroom message "validated an external trader's disclosure of a client name," Gately said in the filing. The lawsuit comes as the bank seeks to appease regulators probing a foreign-exchange scandal engulfing the industry.
3) A Trump-Related Investigation Can Be Bad for Your Career
U.S. President Donald Trump's dismissal of FBI Director James Comey on Tuesday was the third time he's fired someone involved in an investigation of him or his associates. The bureau has been probing Russian involvement in the U.S. election and possible involvement of Trump associates since the summer. Earlier, former acting U.S. Attorney General Sally Yates was dismissed after she refused to defend Trump's first travel ban. And former Manhattan U.S. Attorney Preet Bharara was initially asked to stay on in his role before being fired in March. Our helpful graphic shows how, in each of these cases, the justification for dismissal was inconsistent with prior actions, or immediately followed events related to investigations.

4) Traditional French Politics Are Over 
France rejected the populism of Marine Le Pen and opted for 39-year-old Emmanuel Macron, who created his own party for the election. His victory means the two parties that have dominated the presidency since 1958 are out of power. Now comes the hard part: turning his political movement into a vehicle capable of winning a majority, or at least garnering enough seats in parliament to govern or form a coalition. The French will vote again on June 11 and June 18 to elect their 577 national legislators. Macron's lack of an established base has injected uncertainty into the vote.
5) Stop Ruining Doughnuts
Not long ago, we were the biggest champions of the doughnut, but now it's gone too far, Kate Krader and Chris Rovzar wrote. Flavors that shouldn't work but do, such as "Peanut Butter and Yuzu," are fine. As is morphing into a cruller or cronut. But a spaghetti doughnut is the latest smash hit at Smorgasburg in Brooklyn, N.Y. Gourdough in Austin introduced the Drunken Hunk, a doughnut topped with a mound of bacon-wrapped meatloaf, potato pancake, and candied jalapeños. Ford Fry in Atlanta created a fried chicken sandwich with egg whose "bread" is actually two whole doughnuts. Stop it. The doughnut is nearly a perfect thing, as is.

Before it's here, it's on the Bloomberg Terminal.
LEARN MORE