Trump Lawyers: Tax Returns Show Little Income From Russians
By and
Exceptions include 2013 Miss Universe, 2008 real estate sale

Trump says he forwarded Russia letter to Senator Graham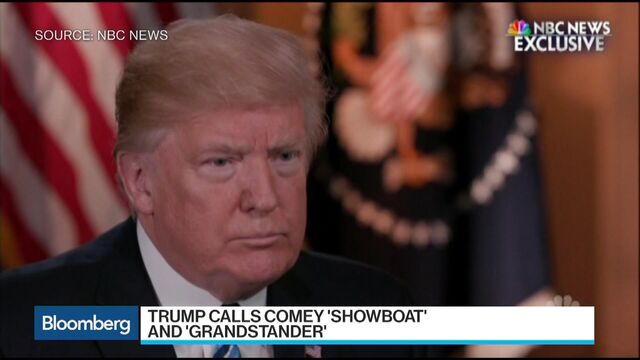 President Donald Trump's personal lawyers said in a letter that his tax returns from the past 10 years show that -- with a few exceptions -- he received no income from Russian sources and owed no debts to Russian lenders.
An independent tax lawyer questioned the letter's value.
"It's kind of a silly letter," said Michael Kosnitzky, who works with wealthy individuals and privately held businesses at Pillsbury Winthrop Shaw Pittman LLP. "People who don't want to disclose the source of their income are going to find ways to hide it."
The White House press office didn't immediately respond to a request for comment. Sheri Dillon, a partner at law firm Morgan Lewis & Bockius LLP who wrote the letter with her colleague William Nelson, said in response to questions that it speaks for itself.
The letter was dated March 8 and was sent to the president. It also said that Trump's tax returns don't reflect any Russian equity investments in Trump's businesses or any equity or debt investments in Russian entities by Trump or his businesses. And it specified two sources of Russian income for Trump businesses over the past several years: a Miss Universe pageant held in Moscow in 2013 that generated $12.2 million in foreign income, most of it from Russia, and the 2008 sale of an estate in Florida to a Russian billionaire for $95 million.
Beyond that, the more than 500 entities that make up the Trump Organization received only "immaterial" amounts from sales of goods and services to Russians or Russian entities, the letter says.
The White House forwarded the March letter to Senator Lindsey Graham, a South Carolina Republican, to show he's not involved in Russia, Trump said in an NBC interview that aired Thursday. Graham, who leads one of the congressional panels that's investigating Russian meddling in the 2016 election, has said he wanted information on Trump's business ties.
Palm Beach Property
Both the Miss Universe pageant and the 2008 sale of the Florida property to Russian oligarch Dmitry Rybolovlev have been previously reported. Trump had purchased the Palm Beach property, formerly known as Maison de L'Amitie, or House of Friendship, for just $41.35 million in 2004.
Trump's political opponents have questioned whether he has financial ties to Russia amid federal investigations into Russian meddling in the 2016 election. The president has repeatedly denied such ties.
Nonetheless, the president's adult sons have suggested otherwise in media accounts. In 2008, Donald Trump Jr. told a real estate conference that "Russians make up a pretty disproportionate cross section of a lot of our assets." And this week, golf writer James Dodson said Eric Trump told him in 2013 that Trump's golf course developments have not relied on American banks. "We have all the funding we need out of Russia," Dodson cited Eric Trump as saying. Eric Trump has denied making that remark.
At least one of Trump's real estate projects, Trump World Tower in New York, became a prominent magnet for funds from Russia and former Soviet states, a Bloomberg investigation found. Many of the sales took place in the late 1990s and early 2000s, during historic capital flight from the region. 
Due Diligence
Kosnitzky said Friday that questions raised from the letter include what kind of due diligence was done to determine that sources of income to Trump weren't ultimately owned by Russians and what percentage of his borrowing came from private unregulated sources as opposed to traditional financial institutions. Financial institutions generally have to comply with stricter rules about knowing the identities of their customers.
"If someone in Russia is trying to influence you, they don't have to give you Russian income," Kosnitzky said. "It could be Argentinian income from a New Zealand trust through a Cyprus entity."
Trump has departed from roughly 40 years of tradition for major-party presidential nominees by not making his returns public, saying his lawyers advised him not to release them while he's under audit. As president, his audits may continue -- Trump is subject to administrative procedures by the Internal Revenue Service that call for mandatory examinations of the chief executive's tax returns. There's no law or rule that prevents people under audit from making their returns public.
— With assistance by Caleb Melby
Before it's here, it's on the Bloomberg Terminal.
LEARN MORE