Rouhani Fires Away at Leading Rival a Week Before Iran Election
By and
Voters go to polls May 19, runoff if no one wins 50% of ballot

Conservatives have put president's economic record centerstage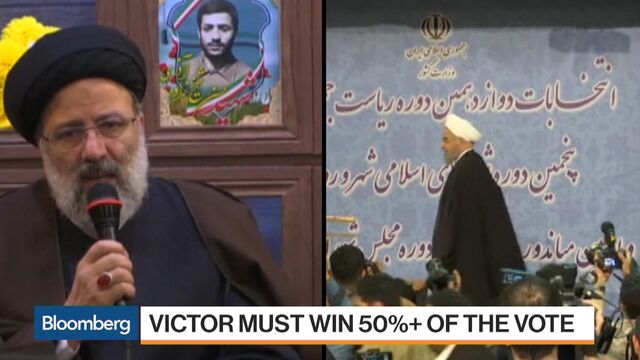 Iranian President Hassan Rouhani launched a stinging attack on his main conservative rival in next week's election, accusing him of unethical management of the nation's holiest religious site and failing to grasp what's needed to rebuild the economy.
In the final live televised debate of an increasingly bitter campaign, Rouhani reproached Ebrahim Raisi, a former member of Iran's powerful judiciary and a direct appointee of its supreme leader, over the running of the shrine of Imam Reza, a revered figure for the Islamic Republic's Shiite majority, as well as the institution which controls its endowments.
"Mr. Raisi, you can say anything you want about me, any accusations you want to make you are free to do so. After all you are a judge, your hands are open," Rouhani said. "But I ask you one thing: Please leave Imam Reza to the people. Please don't drag him into factionalism."
Rouhani, a 68-year-old moderate cleric who won the presidency in 2013 promising to end Iran's economic isolation and deliver greater personal freedoms, has lashed out at conservatives during recent speeches over issues from freedom of speech to corruption and wealthy institutions that don't pay tax. Those rivals have targeted his biggest achievement -- the 2015 deal to curb Iran's nuclear program in return for ending sanctions, arguing it has failed to lift living standards while stripping Iran of a key strategic asset.
Read: What's at Stake in Iran's Presidential Election: QuickTake Q&A.
Rouhani has been "walking a fine line," Farzan Sabet of Stanford University's Center for International Security and Cooperation, said before Friday's debate. While "taking the gloves off with his conservative rivals" could mobilize supporters, it risks the wrath of the hardline establishment and security forces, Sabet said. "As one of the most seasoned politicians in the Islamic Republic, Rouhani is likely to know where the red lines are and how to dance around them."
In his closing comments, Raisi defended his record and plans and chastised Rouhani: "You know very well my anti-corruption spirit," he said. "Why do you keep on showing contempt, this is not proper."
Recent polls suggest Raisi and another candidate, Tehran Mayor Mohammad Baqer Qalibaf, have been gaining ground. A survey by the state-affiliated Iranian Students Polling Agency put Rouhani on 42 percent, short of the 50-percent mark needed to avoid a run-off. Raisi received 27 percent and Qalibaf 25 percent. There are six candidates in the race.
Both Raisi and Qalibaf have promised to expand subsidies to low-income Iranians and create at least a million jobs a year, positions the president ridiculed during Friday's debate.
"The gentlemen here tell the people we will give you money for job creation. Why aren't you specifying where this money will come from?," Rouhani said. "If you mean withdrawing it from the central bank, as in taking the people's money from one pocket and putting it in another, then inflation will accelerate to as much as 60 or 70 percent."
Succession Speculation
The campaign mudslinging on Wednesday brought an intervention from Supreme Leader Ayatollah Ali Khamenei, 77, who said "immoral" statements could be used by Iran's enemies to damage the nation.
It was Khamenei who last year appointed Raisi, 56, to manage the Astan Quds Razavi, an Islamic charity that controls assets worth billions of dollars, as well as the Imam Reza shrine in the northeastern city of Mashhad. The appointment appeared to signal Khamenei's confidence in the younger cleric and triggered speculation that he was being groomed as a contender to succeed him to Iran's most powerful post. Speculation about Khamenei's health has swirled for years.
A conservative victory on May 19 could set relations with the Trump White House -- which has called the 2015 deal a "disaster" -- and its Sunni Gulf Arab allies off on a more confrontational path. It would further worry investors, many of whom are already finding it hard to raise funds for deals in Iran due to sanctions related to terrorism and missile development that weren't lifted under the nuclear agreement. All of the candidates, though, have said they'll respect the accord.
Rouhani on Friday vowed to finish the job and get the remaining sanctions lifted, without saying how.
Run-Off Calculations
"I am telling the Iranian people, I am ready in the next four years, aside from the nuclear sanctions that I had removed, to remove the other sanctions on the Iranian people as well," he said.
Iran's conservative-hardline bloc, known as the 'principlists,' is "hoping there is a run-off so they can unite all the opponents and beat Rouhani," said Foad Izadi, a member of the Faculty of World Studies and a vocal critic of Rouhani's foreign policy.
Voters will also elect city councils on May 19 and, according to Izadi, turnout could drop at any second round a week later.
"Historically, if the number of participants is lower that tends to help the principlists because their supporters always tend to show up. If there's a second round the danger for Rouhani is higher," he said.
Before it's here, it's on the Bloomberg Terminal.
LEARN MORE