business
Mnuchin's G-7 Partners Struggle to Engage Odd Man Out on Trade
By , , and
U.S. 'needs the global economy,' says Germany's Schaeuble

Ministers may compromise with repeat of trade G-20 language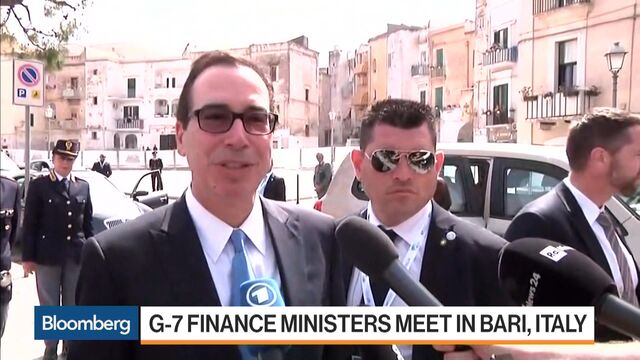 Steven Mnuchin's global partners kept up their struggle to engage the finance chief of the world's biggest economy as he stood his ground on a view of economics that remains far removed from what the Group of Seven is used to.
Finance ministers meeting in the Italian port of Bari, including Germany's Wolfgang Schaeuble, sought to draw in the U.S. Treasury Secretary toward the previous consensus on free trade, despite a formal agenda that avoided pursuing that too explicitly by focusing on "inclusive growth."

"Many of us, including myself and Dr. Schaeuble, told Mr. Mnuchin that it is unthinkable that in the weeks and months to come, we can allow the established framework to be debated," French Finance Minister Michel Sapin told reporters. "It is unthinkable and it will not happen, that we destroy the framework that has given us stability and economic growth."
Mnuchin, whose participation was overshadowed by a political storm in Washington, arrived saying he was "excited" about U.S. trade policies after the announcement of a deal to boost exports of gas and beef to China. The Treasury Secretary's first G-7 outing follows Group of 20 meetings that have undermined the existing global economic order after he refused to sign up to an explicit shunning of protectionism, and pressed for trade to be "fair" and "reciprocal."
Speed Dating
"Inequality won't shrink by denying free trade and supporting protectionism -- rather, it's opposite," Bank of Japan Governor Haruhiko Kuroda told reporters. "I think that's the consensus among many of us."
Mnuchin skipped the start of a seminar on inequality early on Friday, but has kept up a busy schedule of bilateral meetings with counterparts, including from Italy, Germany and Japan. He has previously joked that he speed-dates finance ministers, holding as many as 18 such one-on-ones during the G-20 in March. Officials at that gathering in the German spa town of Baden-Baden gave Mnuchin some breathing room as a Treasury chief who had been in office for just six weeks. Now they are stepping up the pressure.
"We need a strong United States, the United States needs the global economy and global economics on a sustainable way where the United States is still the most important political and economic partner and the best alliance for Europe," Schaeuble told reporters.
The ability of Mnuchin to speed forward with a pro-growth agenda has been thrown into question after U.S. President Donald Trump's firing of James Comey as FBI chief this week provided an unwelcome distraction from policy. Comey was leading the FBI investigation into links between Trump's 2016 election campaign and the Russian government.
Fair vs Free
At the G-20 in March, officials almost left trade out of their communique as Mnuchin pressed for them to agree it should be "fair" rather than "free" -- while a month later in Washington, he crystallized that position, citing Trump as favoring "reciprocal free trade."
Language from the Baden-Baden communique is still likely to be repeated in a statement following this week's meeting, Italian Treasury officials said on Friday. That included a reference to "working to strengthen the contribution of trade to our economies" -- much weaker wording than previous statements explicitly rejecting of protectionism.
The Bari meeting was described by a senior U.S. Treasury official as cooperative and positive.
For a QuickTake Explainer on free trade, click here.
One official from a European country, speaking on condition of anonymity because talks are confidential, said that the message to U.S. counterparts was now that "fair" trade must still encompass good rules for everyone -- not private deals on how many planes or cars each economy can buy.
U.S. representatives in Bari seemed not to be prepared to engage much in substantive discussions, officials suggested.
"You've got to listen, but at a certain point you've got to give your view," Sapin said. "The U.S. has been modest in its presence. They listen."
Culture Clash
A U.S. Treasury spokesman denied that Mnuchin was reticent during the talks, and said that the secretary understands that the administration has a different perspective on issues such as trade than the global community is used to and he wants to telegraph his own economic agenda in a responsible manner. He has made substantive contributions to the discussions and wants the G-7 statement to reflect what was discussed and happened during the actual meetings, rather than a pre-set agenda, he said.
Corporate tax codes may be discussed at meetings on Saturday, said a senior Japanese finance ministry official, who asked not to be identified. While the U.S. has traced out plans for the biggest U.S. tax overhaul in history, including cutting the corporate rate to 15 percent from 35 percent, the G-7 doesn't have the say over any nation's tax policies, the official said.
Angus Deaton, a Nobel-prize winning economist who took part in the session on inequality, told Bloomberg Television that the talks may feature a clash of cultures.
"There obviously is a very sharp difference between the sort of cosmopolitan policy makers that make up most of the G-7 and the American position on these issues," he said.
— With assistance by Lorenzo Totaro, Matthew Miller, Elena Gergen-Constantine, Flavia Rotondi, Birgit Jennen, Toru Fujioka, and Alessandro Speciale
Before it's here, it's on the Bloomberg Terminal.
LEARN MORE